A Weird Dungeon Crawl… IN SPAAACE: Metamorphosis Alpha Deluxe Collector's Edition
A Weird Dungeon Crawl… IN SPAAACE: Metamorphosis Alpha Deluxe Collector's Edition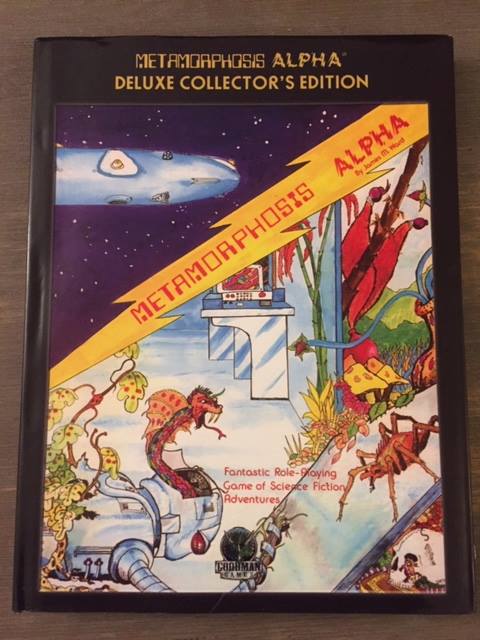 This oversized volume arrived in the mail last week: the Deluxe Collector's edition of Metamorphosis Alpha, the first science-fiction roleplaying game. Originally published by TSR as a slender booklet in 1976, it's essentially a weird dungeon crawl … IN SPAAACE! … taking inspiration from Brian Aldiss's novel Non-Stop (which I love, BTW).
Its combination of radiation and mutant people/animals later formed the basis of Gamma World, one of the most out-there RPG settings ever. This volume contains the original Metamorphosis Alpha manual, an interview with creator James M. Ward, playtest notes, and all the supplemental material and errata published in Dragon and other RPG magazines of the time.
So why did I buy this? I'm one of those people who rarely plays RPGs (I don't know enough people around me who want to) but enjoys reading RPG books as entertainment. I'm also interested in RPG history, since I came of age right as they did, during the advent of AD&D in the late '70s. The only game system I would ever play is Fudge, the best universal system ever and wonderfully flexible, but that only makes it easier to read about other games and sourcebooks — they can all be run in Fudge!
You can order the Metamorphosis Alpha Deluxe Collector's Edition directly from Goodman Games.
Here are some pictures of the interior of the book.