Future Treasures: The Raven Tower by Ann Leckie
Future Treasures: The Raven Tower by Ann Leckie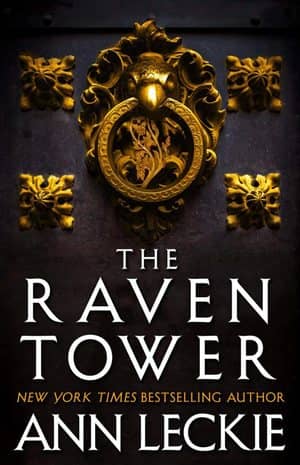 Ann Leckie knows how to make an entrance. Her debut novel Ancillary Justice (2013) won the Hugo, Nebula, Arthur C. Clarke, and British Science Fiction Award, and she followed it in short order with three sequels: Ancillary Sword (2014), Ancillary Mercy (2015), and Provenance (2017).
Her fifth novel, and her debut fantasy, is one of the most anticipated books of the year. It arrives in hardcover from Orbit next week. Lev Grossman calls The Raven Tower "A powerhouse epic of humans and gods at war, deeply imagined and profoundly thrilling," and Kirkus Reviews says:
It is a common fantasy trope to suggest gods gain strength through faith and worshipers and that they can employ that strength to bend reality. But few authors have really explored all the implications of what happens when multiple beings with that power come into conflict. There is so much story and careful thought packed into this short volume that it should correct anyone who believes a fully realized fantasy novel requires a minimum of 500 pages.
Here's the description.
Gods meddle in the fates of men, men play with the fates of gods, and a pretender must be cast down from the throne in this masterful first fantasy novel from Ann Leckie, New York Times bestselling author and winner of the Hugo, Nebula, and Arthur C. Clarke Awards.

For centuries, the kingdom of Iraden has been protected by the god known as the Raven. He watches over his territory from atop a tower in the powerful port of Vastai. His will is enacted through the Raven's Lease, a human ruler chosen by the god himself. His magic is sustained via the blood sacrifice that every Lease must offer. And under the Raven's watch, the city flourishes.

But the power of the Raven is weakening. A usurper has claimed the throne. The kingdom borders are tested by invaders who long for the prosperity that Vastai boasts. And they have made their own alliances with other gods.

It is into this unrest that the warrior Eolo — aide to Mawat, the true Lease — arrives. And in seeking to help Mawat reclaim his city, Eolo discovers that the Raven's Tower holds a secret. Its foundations conceal a dark history that has been waiting to reveal itself… and to set in motion a chain of events that could destroy Iraden forever.
The Raven Tower will be published by Orbit Books on February 26, 2019. It is 432 pages, priced at $26 in hardcover and $13.99 in digital formats. The cover was designed by Lauren Panepinto.
See all our recent coverage of the best upcoming fantasy here.