The Silent Garden: A Journal of Esoteric Fabulism is a Beautiful New Fantasy Magazine
The Silent Garden: A Journal of Esoteric Fabulism is a Beautiful New Fantasy Magazine
I don't usually buy books or magazines sight unseen. But I made an exception for the inaugural volume of The Silent Garden, a beautiful new "Journal of Esoteric Fabulism."
Part of the reason was the publisher. Mike Kelly's Undertow Publications has produced some of the most memorable dark fantasy and horror of the past few years, including the anthology Aickman's Heirs, Simon Strantzas's new collection Nothing is Everything, and five volumes of Year's Best Weird Fiction. To be honest the list price, $50 for a deluxe full color hardcover on 70lb. paper, gave me sticker shock, but the list of contributors — V.H. Leslie, Nick Mamatas, Helen Marshall, Brian Evenson, D.P. Watt, and many more — and the discounted 4-volume "The Year in Weird" bundle pricing on their website eventually won me over.
I'm very glad it did. At 249 pages, there's a whole lot of content crammed into this journal, including eleven short stories, poems, book reviews, articles, and a 24-page full-color gallery devoted to the work of Manchester artist David Whitlam. But just describing the contents doesn't do it justice. The real strength of The Silent Garden is its top-notch design. It looks fantastic, and every piece is accompanied by at least one striking visual or full-color work of art. Here's a few pics of the gorgeous interiors.
[Silently click the images for garden-sized versions.]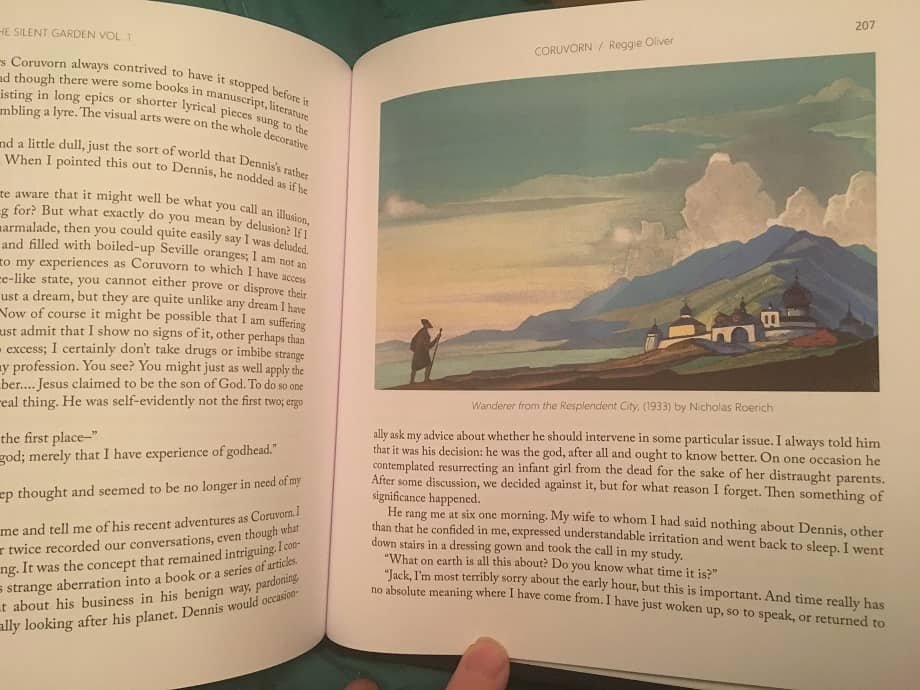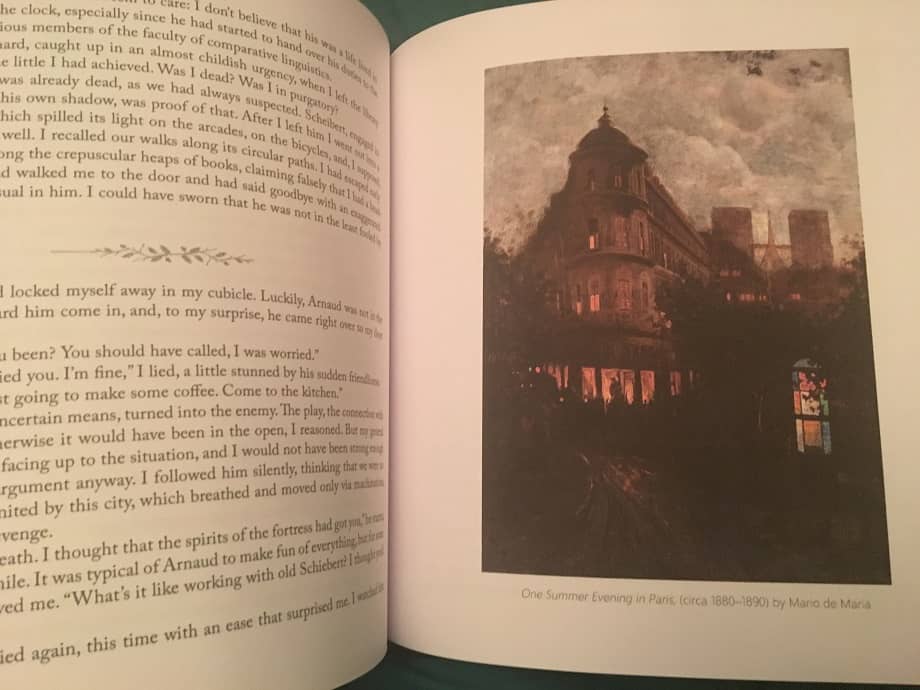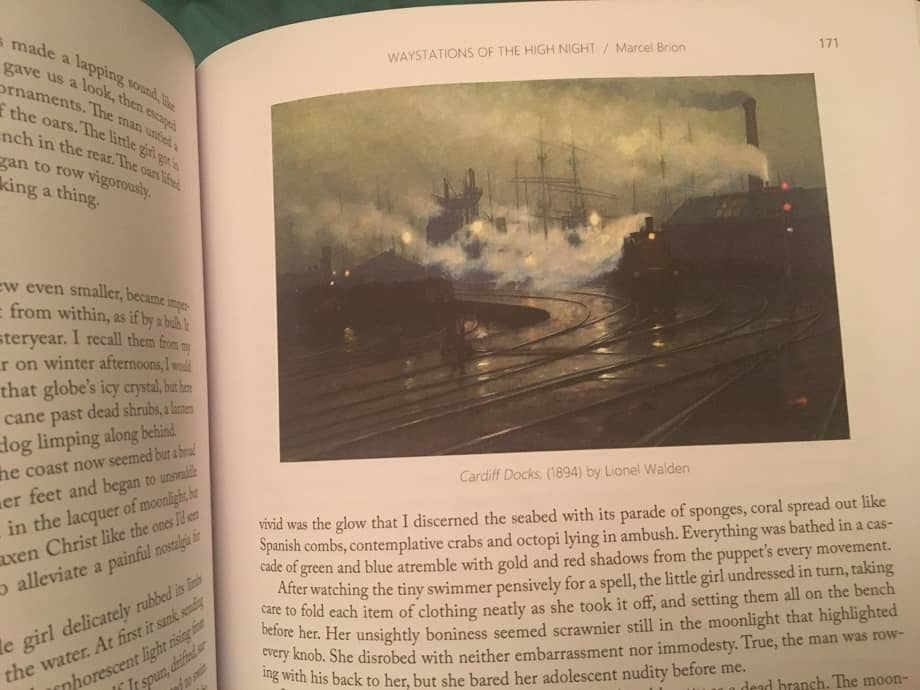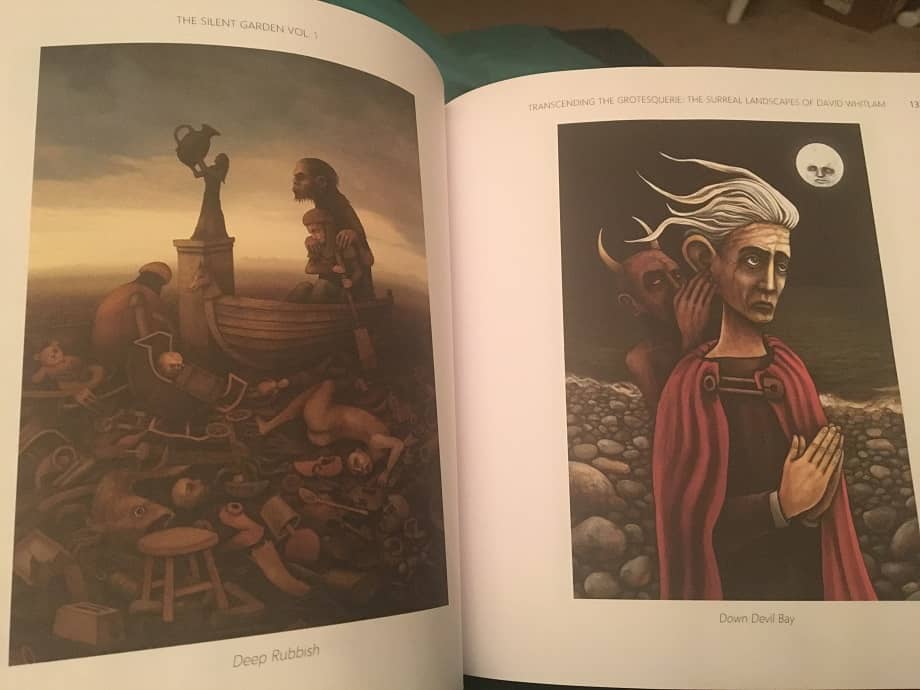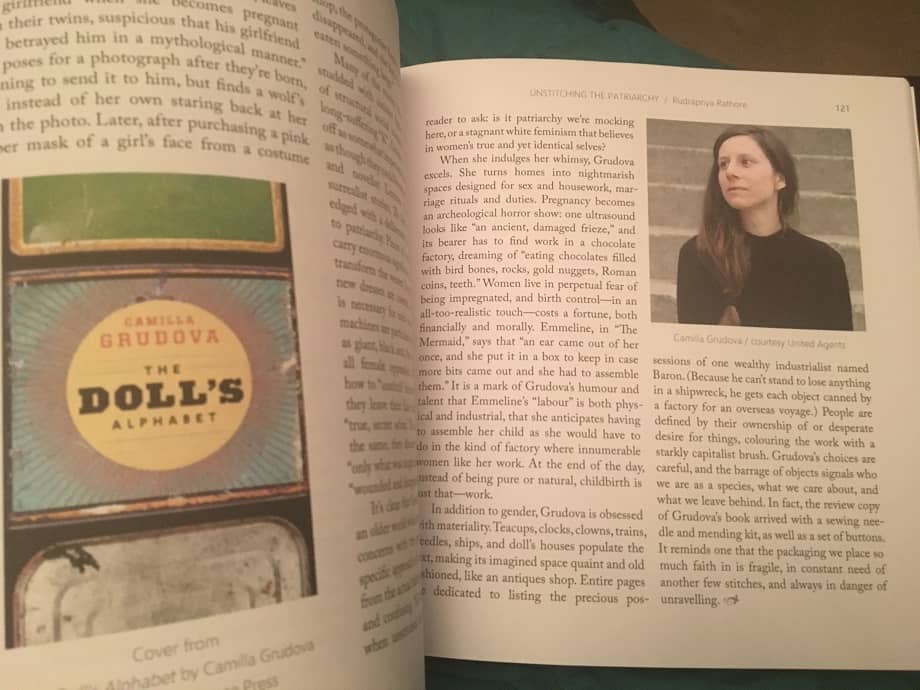 Beyond merely "Esoteric Fabulism," is there a focus or stated purpose for The Silent Garden?
Yes there is. It's most plainly stated in a manifesto in the ABOUT entry at the back of the book, which reads in part:
Welcome to The Silent Garden.

The Silent Garden is a peer-reviewed journal of esoteric fabulism, edited and curated by the Silent Garden Collective, a professional group of editors, writers, and scholars interested in exploring those liminal borderlands where darkness bends.

The Collective's aim is to provide an annual journal of exceptional writing and art focussed on horror and the numinous, the fabulist, the uncanny, the weird, the gnostic, the avant-garde, the esoteric, and the dark interstices of the known and unknown world.

Each volume of The Silent Garden will feature original, translated, and reprint fiction and non-fiction, including; film and book reviews; essays; opinion and commentary; as well as poetry and art.
Here's the full text.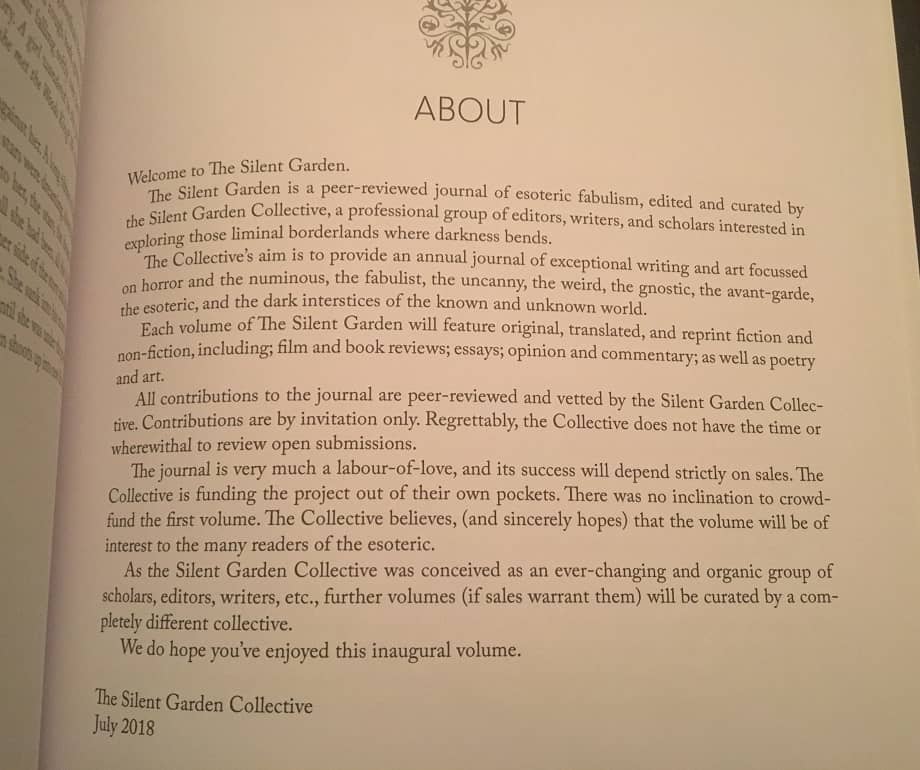 The Silent Garden isn't perfect. It's a little… well, esoteric. It frequently reads more like an academic journal than a fantasy mag, which may be what that Silent Collective was going for. Hey, I like thoughtful film reviews as well as they next guy, but I'm probably not going to read one titled "The Politics of Performativity in Lars Von Trier's Dogville and Yorgos Lanthimo's Dogtooth," by Angelos Koutsourakis. Especially when it includes paragraphs like this one:
Narrative simplification aims at prioritising style over story, creating moments of visual excess which can be appropriated for marketing and advertising reasons. According to Justin Wyatt high concept films are the product of the synergy of the industry, resulting in objects which appropriate televisual aesthetics, as well as music video tropes… By contrast, the minimisation of text-bound dramaturgy in contemporary European Cinema proposes a more austere type of filmmaking.
Holy cow. I read fantasy film reviews to learn about cool movies I may have overlooked. This thing reads like an 18-page excerpt from a Ph.D. thesis in Film Studies (complete with two pages of footnotes.) At least there's a picture of Nicole Kidman.
Here's the complete Table of Contents.
THE SILENT GARDEN: A JOURNAL OF ESOTERIC FABULISM

ART

Transcending the Grotesquerie: The Surreal Landscapes of David Whitlam

NON-FICTION

"Translating The Ritual," by J.T. Glover
"The Raw Food Movement: Comparing Transformative Diets in Han Kang's The Vegetarian (2015) and Julia Ducournau's Raw (2016)," by V.H. Leslie
"Unstitching the Patriarchy: A review of Camilla Grudova's The Doll's Alphabet," by Rudrapriya Rathore
"Cinema of the Body: The Politics of Performativity in Lars Von Trier's Dogville and Yorgos Lanthimo's Dogtooth," by Angelos Koutsourakis

POETRY

"Lincoln Hill," by Daniel Mills
"Deposition of Darkness," by Mesándel Virtusio Arguelles (Translated by Kristine Ong Muslim)
"Contortionist," by Mesándel Virtusio Arguelles (Translated by Kristine Ong Muslim)

FICTION

"Waystations of the High Night," by Marcel Brion (Translated by Edward Gauvin)
"Her Blood the Apples, Her Bones the Trees," by Georgina Bruce
"La Tierra Blanca," by Maurizio Cometto (Translated by Rachel S. Cordasco)
"Embolus of Cinnabar," by Patricia Cram
"Palisade," by Brian Evenson
"Under the Casket, A Beach!" by Nick Mamatas
"The Other Tiger," by Helen Marshall
"Coruvorn" by Reggie Oliver
"Blood and Smoke, Vinegar and Ashes" by D.P. Watt
"The Palace of Force and Fire," by Ron Weighell
"Nox Una," by Marian Womack
The Silent Garden is a beautiful new journal of fantasy. I hope there are many more.
It was published by Undertow Publications on September 4, 2018. It is 249 pages in hardcover, priced at $50. There is no digital edition. The front and back covers are by David Whitlam.
Our previous coverage of Undertow Publications includes:
Mysterious Stones, Hidden Gardens, and Small-town Secrets: Simon Strantzas' Nothing is Everything by Mario Guslandi
Uncanny as a Ventriloquist's Doll: Nothing is Everything by Simon Strantzas
All the Fabulous Beasts by Priya Sharma
Year's Best Weird Fiction, Volume Five edited by Robert Shearman and Michael Kelly
Shadows and Tall Trees 7 edited by Michael Kelly
Almost Insentient, Almost Divine by D P Watt
Skein and Bone by V.H. Leslie
Aickman's Heirs edited by Simon Strantzas
See all our recent magazine coverage here.