Birthday Reviews: Sean McMullen's "Electrica"
Birthday Reviews: Sean McMullen's "Electrica"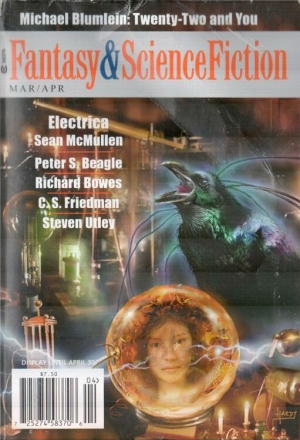 Sean McMullen was born on December 21, 1948 in Victoria, Australia.
McMullen has won the Ditmar Award 8 times, including five William Atheling, Jr. Awards for Criticism or Review, for short fiction ("While the Gate Is Open" and "Alone In His Chariot") and for long fiction for Mirrorsun Rising. His novels The Centurion's Empire and The Miocene Arrow as well as his short story "Walk to the Full Moon" have won the Aurealis Award. He has been nominated one time each for the Hugo Award, the British SF Association Award, the Sidewise Award, and the WSFA Small Press Award. McMullen has published under the pseudonym Roger Wilcox and has collaborated with Paul Collins, Steven Paulsen, Van Ikin, and Russell Blackford.
"Electrica" was first published in the March-April 2012 issue of The Magazine of Fantasy and Science Fiction, edited by Gordon van Gelder. The next year McMullen included it in his short story collection Ghosts of Engines Past and David G. Hartwell selected the story for inclusion in Year's Best SF 18.
McMullen offers a secret history of the Napoleonic Wars by looking at the career of Lieutenant Michael Fletcher, whose work in intelligence has gotten him transferred back to England to investigate the claims of Sir Charles Calder, who claims that he has used electricity to create a device that can send signals over vast distances, somewhat akin to the later telegraph, but without wires. Calder has even created a form of Morse code to use with the messages.
Fletcher arrives at Sir Charles's manor to discover a contingent of soldiers guarding it, Sir Charles's experiments, and Lady Monica, whose voracious sexual appetite appears to focus on any male who isn't her husband, who she finds boring. As far as Fletcher can tell, Sir Charles feels the same way about Lady Monica. Allowing himself to be seduced by Monica in order to gain access to Sir Charles's locked laboratory leads to a duel with one of the soldiers and sidelines Fletcher for several weeks while Monica is supposed to be in London. Upon his return to the manor, he learned that Lady Monica never made it to London and Sir Charles's experiments have taken a dark turn.
McMullen uses a combination of his knowledge of technological advances in the later nineteenth century to outline the course of Sir Charles's invention, but incorporates the idea of the messages being sent by electricity rather than wire to differentiate his world. The story also uses the idea of an advanced civilization, possibly saurian in nature, which figured out a way to download their conscious to amber for later use. The story is detailed and innovative.
Reprint reviewed in the anthology Year's Best Science Fiction 18, edited by David G. Hartwell, Tor Books, 2012.
---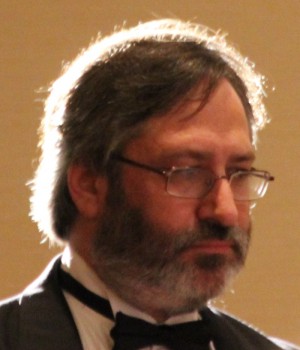 Steven H Silver is a sixteen-time Hugo Award nominee and was the publisher of the Hugo-nominated fanzine Argentus as well as the editor and publisher of ISFiC Press for 8 years. He has also edited books for DAW and NESFA Press. He began publishing short fiction in 2008 and his most recently published story is "Webinar: Web Sites" in The Tangled Web. Steven has chaired the first Midwest Construction, Windycon three times, and the SFWA Nebula Conference 6 times, as well as serving as the Event Coordinator for SFWA. He was programming chair for Chicon 2000 and Vice Chair of Chicon 7.