A look back at E3 2018: Playstation's Conference
A look back at E3 2018: Playstation's Conference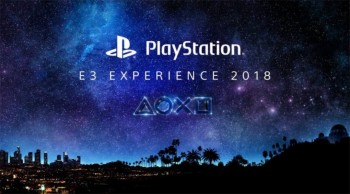 Every year, in early summer, the Electronics Entertainment Expo (E3) showcases the industries upcoming games, gaming tech, and gaming culture. Studios from around the world vie to create a buzz for their brands by announcing new games, new content for existing games, and upcoming new hardware.
The largest Studios, such as Xbox, Bethesda, and  Playstation hold live, large press conferences that can be viewed in person, streamed live, or be watched later on the internet. These press conferences are fairly long events, often lasting over an hour. Typical content for these events are live game demos, prerecorded game demos, and short video teasers for games not far in development. These presentations sometimes include celebrities and often include developer commentary.
This year at E3, Sony announced some fantastic exclusive games. Of the games that were presented at Sony's E3 Conference, Call Of Duty Black Ops 4, Tetris Effect (PSVR), Beat Saber (PSVR), Destiny 2 Forsaken DLC, and Spider-Man have been released. The rest of the games presented are expected to release in 2019.
Sony's E3 conference began its presentation with an artist named Gustavo Alfredo Santaolalla playing a Banjo on stage. The music and stage were themed for one of Sony's most anticipated exclusives named The Last Of Us Part 2.
The Last Of Us Part 2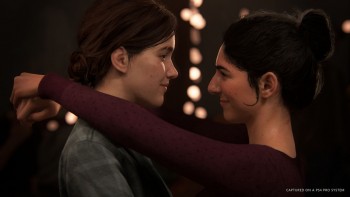 The Last Of Us is a game series about a "zombie" style apocalypse. In this world humans were infected by a fungus that turns them into Cordyceps. The Last Of Us takes place twenty years after the infection and focused on two survivors, a young girl named Ellie and a man named Joel. The Last Of Us was critically and commercially acclaimed, showcasing how video games can rival other entertainment mediums by telling an emotional and interesting story through immersive gameplay.
The Last Of Us Part 2 was presented in a video format that cut between two different facets of the game. The human side of living in a chaotic world, and the dangers of surviving in that world. The video begins with a teen Ellie at a party, dancing with another girl. The party looks warm and safe, showing that Ellie seems to be in a secure human environment. As they are dancing, the girl pulls Ellie in for a kiss.
The video then switches to Ellie sneaking through a dark forest, killing human enemies and being hunted by them. The enemies repeatedly call her wolf, as she hides and defends herself. This clip is very tense, and reminds you that in this world, humans are just as dangerous as Cordyceps. The video returns to Ellie at the party, and the kiss ends.
The Ghosts Of Tsushima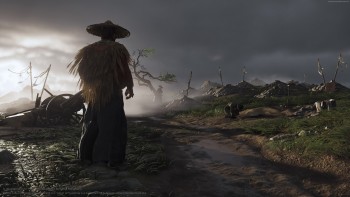 After a brief intermission, an artist named Cornelius Boots played a Japanese shakuhachi on stage. The music and stage were themed for a new game called The Ghosts of Tsushima.
The Ghosts Of Tsushima is set in Feudal Japan in the year 1274, and portrays a Samurai seeking to defend his homeland during the first invasion of the Mongols. The Samurai, named Jin Sakai, is shown walking through a very windy, war torn field, with a date displayed as Day 9 of the Mongol invasion. Jin reaches a peak and spots a tree topped with red leaves. He calls for his horse and rides towards the tree.
Jin finds three Mongols murdering peasants. The Mongols face him and call him Samurai. Jin dispatches them with ease, demonstrating the fighting mechanics in the game. Jin meets a woman named Masako and proclaims that they must save the Monk. Masako and Jin come upon some Mongols guarding an entryway to the Monastery. Stealthily, they sneak up to the guards and defeat them quickly.
They rescue the Monk, but Jin is betrayed by Masako as she shoots an arrow at the Monk, declaring that the Monk gave her family up to the Mongols to save himself. Jin and Masako square off to duel, with Jin defeating Masako. Jin turns to Masako and tells her that they need to face the real threat together as they turn to face an unseen amount of approaching enemies.
The Ghosts of Tsushima is one of my most anticipated games. The visual style, music, weapons and fighting seemed to be very authentic to Japanese culture in that time period. I can't wait to immerse myself in that world, living out the fantasy of being a samurai.
Spider-Man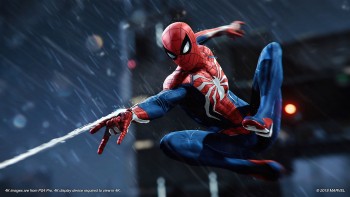 Arguably, the most anticipated game of the PlayStation conference was Spider-Man. The Spider-Man trailer begins with Spider-Man swinging on to a helicopter flying towards The Raft, a prison filled with Super-Powered criminals. As the helicopter gets closer to the prison, Spider-Man spots Electro. His spidey sense activates as Electro shoots a lightning bolt at the helicopter. The helicopter crashes and Electro frees all of the inmates.
Spider-Man immediately swings into action, fighting freed prisoners with web-slinging, punches and kicks, and by using the environment as a weapon. As he is fighting, when it seems he is in danger, his spidey sense triggers, letting the game player know they need to react to this danger or risk damage. The fighting is very fluid and highly stylized looking like something right out of a comic book.
Having defeated the first wave of prisoners, Spider-Man proceeds to the next area where he meets the Rhino, who throws a large block of concrete at him. Electro and Rhino run away, warning Spider-Man of a surprise. Spider-Man sees Electro who goads him to chase him.
An action-packed chase begins inside and outside the prison with lots of web-slinging. Spider-Man finally catches up to Electro and just as he's about to apprehend him, Vulture appears and flys Spider-Man into the sky. Spider-Man webs him in the face and falls down web-slinging after Electro again.
Spider-Man finally catches up to Electro where he is attacked by five of his greatest enemies, Electro, Rhino, Vulture, Mr Negative, and Scorpion. The villains defeat Spider-Man, and as the video ends Spider-Man looks up at an approaching light and says "You?"
Spider-Man was released on September 7th and received very favorable reviews. The game looks amazing (pun intended), and captures everything true to the Spider-Man character and the world he resides in. Web-slinging through the environments is incredibly smooth and the variety of webs as a weapon to choose from is incredible.
Resident Evil 2
The next game presented is a remake of a classic, Resident Evil 2. The original Resident Evil 2 was released on the first-gen PlayStation in 1998. Since it is not a direct port of the original game, Capcom doesn't like the term remake. I would call it a reimagining as opposed to a remake. Their will be many similarities to the original, but there will also be many new ideas and changes to gameplay to make it unique.
Sony is the first console that has embraced Virtual Reality with their PSVR headset. While they have yet to make an absolutely incredible VR experience that enthuses gamers to embrace it heartily, there have been a few games that have shown what VR could be on the Playstation.
Sony briefly mentioned that they were working on the next generation of Playstation consoles and a game streaming service. With the next round of consoles generally believed to be released in 2020, game streaming has become the new technological breakthrough anticipated by the video game industry. The idea that you can stream any game on any device with next gen visuals has become very appealing.
Sony's E3 conference showed why Playstation is the leading game console worldwide. With several exciting exclusives, The Last Of Us 2, Spiderman, The Ghosts Tsushima, and Days Gone, Sony has given gamers great incentive to own a PS4 console. Sony's brand will be strong for a long time.
Everything announced at Sony's E3 Conference:
The Last Of US Part 2
Call Of Duty Black Ops 4 Released October 12th, 2018
Tetris Effect (Playstation VR) Released November 9th, 2018
Days Gone
Twin Mirror
Ghost Giant (Playstation VR)
Beat Saber (Playstation VR) Released November 20th, 2018
Destiny 2 Forsaken (Expansion DLC) Released September 4th, 2018
Ghosts Of Tsushima
Death Stranding
Control
Resident Evil 2
Trover Saves The Universe
Kingdom Hearts 3
Nioh 2
Spider-Man Released September 7th, 2018