The Feminine Mystique: The Big Book of Female Detectives edited by Otto Penzler
The Feminine Mystique: The Big Book of Female Detectives edited by Otto Penzler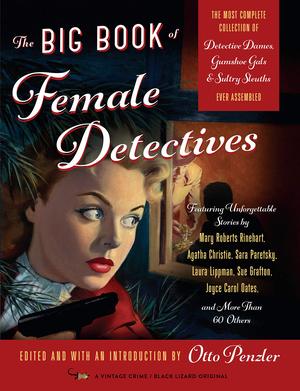 I think that if I were stranded on a desert island, and I could grab the works of a single writer to bring with me before my ship went down, I'd be a fool not to choose Otto Penzler.
Penzler's brick-sized Big Book anthologies form a pretty darn complete intro to genre fiction. He's produced more than a dozen over the last decade, publishing roughly one per year since 2007. They include:
The Black Lizard Big Book of Pulps — 2007
The Vampire Archives — 2009
Agents of Treachery — 2010
The Black Lizard Big Book of Black Mask Stories — 2010
Zombies! Zombies! Zombies! — 2011
The Big Book of Adventure Stories — 2011
The Big Book of Ghost Stories — 2012
The Big Book of Christmas Mysteries — 2013
The Black Lizard Big Book of Locked-Room Mysteries — 2014
The Big Book of Sherlock Holmes Stories — 2015
The Big Book of Jack the Ripper — 2016
The Big Book of Rogues and Villains –- 2017
His latest is a delicious mix of gumshoe gals and debutant detectives. It was published last month by Vintage Crime. Here's the description.
Edgar Award-winning editor Otto Penzler's new anthology brings together the most cunning, resourceful, and brilliant female sleuths in mystery fiction. A Vintage Crime/Black Lizard Original.

For the first time ever, Otto Penzler gathers the most iconic women of the detective canon over the past 150 years, captivating and surprising readers in equal measure. The 74 handpicked stories in this collection introduce us to the most determined of gumshoe gals, from debutant detectives like Anna Katharine Green's Violet Strange to spinster sleuths like Mary Roberts Rinehart's Hilda Adams, from groundbreaking female cops like Baroness Orczy's Lady Molly to contemporary crime-fighting P.I.s like Sue Grafton's Kinsey Millhone, and include indelible tales from Agatha Christie, Carolyn Wells, Edgar Wallace, L. T. Meade and Robert Eustace, Sara Paretsky, Nevada Barr, Linda Barnes, Laura Lippman, and many more.
The Big Book of Female Detectives was published by Vintage Crime/Black Lizard on October 16, 2018. It is 1136 pages, priced at $25 in paperback and $12.99 in digital formats.