Birthday Reviews: Neal Barrett, Jr.'s "A Day at the Fair"
Birthday Reviews: Neal Barrett, Jr.'s "A Day at the Fair"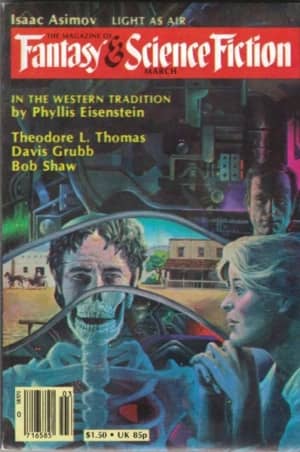 Neal Barrett, Jr. was born on November 3, 1929 and died on January 12, 2014..
Barrett's novelette "Ginny Sweethips' Flying Circus" was nominated for both the Hugo and Nebula Award and his story "Stairs" was nominated for the Theodore Sturgeon Memorial Award. He received a nomination for the World Fantasy Award for Best Collection for Perpetuity Blues and Other Stories. He has published Tom Swift novels under the house name Victor Appleton. Barrett was named Author Emeritus by the Science Fiction and Fantasy Writers of America in 2010.
"'A Day at the Fair'" was first published in The Magazine of Fantasy and Science Fiction in the March 1981 issue, edited by Edward L. Ferman. Ferman included it in The Best from Fantasy and Science Fiction, 24th Series the next year. Barrett has included the story in two of his collections. He reprinted it in Slightly Off Center: Eleven Extraordinarily Exhilarating Tales in 1992 and again in Perpetuity Blues and Other Stories in 2000.
For Toony, the local fair is a high point of the year, bringing together all the various castes who have settled on the planet and giving her a chance to eat a variety of comfort foods. Her trip to the fair in the company of her grandfather, who remembers life on Earth before coming to their planet, her sister Lizbeth Jean, her practically absent mother, and Tyrone, a Noord, who seems to be either a low-functioning alien or a high functioning pet.
While the fair appears to be a way for people to gather, enjoy food, play games, and form a sense of community, there also appears to be a more sinister aspect. Grandpa gets sucked in by a Patchman, a form of spaceman, who tries to sell him on a service that allows him to speak to the dead. When he tries it, he is able to have brief conversations with some friends and his wife, but the actual mechanism for making it work is ignored by Barrett and the characters. The fair also seems to have a form of slave market and Grandpa and Toony find themselves looking at a captured Bug, who claims to be the vice-admiral of an alien species captured in a war the Patchmen are fighting far from the fair's planet. The fact that people can be bought and sold at the fair puts Toony's relationship with Tyrone in a very different light and also indicates that the fair may be a cover for the slave trade, which becomes more obvious as Toony and her grandpa are talking to the Bug.
In the end, the carefree day at the fair turns into something much worse, although the story raises a lot of internal questions. If the people visiting the fair know what is happening, and it seems they must, at least on some level, why does the fair take place, or at least why do people attend? It also seems that the story, which begins almost as an idyll, should end in a more horrific manner, like some of the dark carnival stories of Ray Bradbury.
Reprint reviewed in the collection Perpetuity Blues and Other Stories, by Neal Barrett, Jr., Golden Gryphon Press, 2000.

---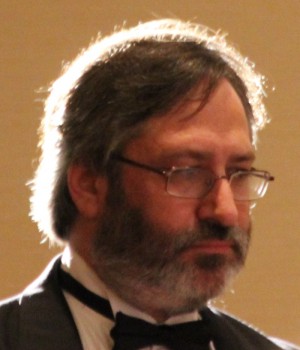 Steven H Silver is a sixteen-time Hugo Award nominee and was the publisher of the Hugo-nominated fanzine Argentus as well as the editor and publisher of ISFiC Press for 8 years. He has also edited books for DAW and NESFA Press. He began publishing short fiction in 2008 and his most recently published story is "Webinar: Web Sites" in The Tangled Web. Steven has chaired the first Midwest Construction, Windycon three times, and the SFWA Nebula Conference 6 times, as well as serving as the Event Coordinator for SFWA. He was programming chair for Chicon 2000 and Vice Chair of Chicon 7. He has been the news editor for SF Site since 2002.