New Treasures: A Conspiracy of Truths by Alexandra Rowland
New Treasures: A Conspiracy of Truths by Alexandra Rowland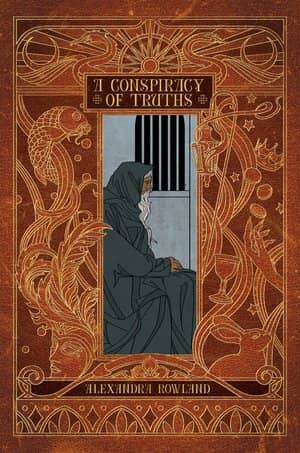 I'm at the World Fantasy Convention in Baltimore this weekend. This is my first trip to the city (Holy cats! Did you know Baltimore was on the Atlantic Ocean?? They should tell people this stuff), and so far I've dined at a terrific seafood restaurant, taken in the salt air, and visited what has to be the largest Barnes & Noble on the planet.
I've also reconnected with plenty of friends whom I only see at conventions these days, including more than a few Black Gate contributors (quick shout out to Derek Kunsken, Marie Bilodeau, Howard Andrew Jones, Patty Templeton, Doug Ellis, L.E. Modesitt, and Sarah Avery!) and wandered through the beautiful Dealer's Room, packed to the brim with fantasy books. It may seem strange that even surrounded by a hive of activity like WFC I can still be distracted by new books, but there you are. One of the first to catch my eye was the debut fantasy novel by Alexandra Rowland. I think I'll be taking this one home with me.
A wrongfully imprisoned storyteller spins stories from his jail cell that just might have the power to save him — and take down his jailers too.

Arrested on accusations of witchcraft and treason, Chant finds himself trapped in a cold, filthy jail cell in a foreign land. With only his advocate, the unhelpful and uninterested Consanza, he quickly finds himself cast as a bargaining chip in a brewing battle between the five rulers of this small, backwards, and petty nation.

Or, at least, that's how he would tell the story.

In truth, Chant has little idea of what is happening outside the walls of his cell, but he must quickly start to unravel the puzzle of his imprisonment before they execute him for his alleged crimes. But Chant is no witch—he is a member of a rare and obscure order of wandering storytellers. With no country to call his home, and no people to claim as his own, all Chant has is his wits and his apprentice, a lad more interested in wooing handsome shepherds than learning the ways of the world.

And yet, he has one great power: his stories in the ears of the rulers determined to prosecute him for betraying a nation he knows next to nothing about. The tales he tells will topple the Queens of Nuryevet and just maybe, save his life.
A Conspiracy of Truths was published by Saga Press on October 23, 2018. It is 464 pages, priced at $25.99 in hardcover and $7.99 for the digital edition.
See all of our recent New Treasures here.