September/October 2018 Asimov's Science Fiction Now on Sale
September/October 2018 Asimov's Science Fiction Now on Sale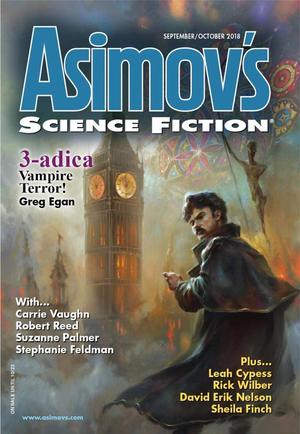 I think the annual "slightly spooky" issue of Asimov's Science Fiction, traditionally their September/October issue, is my favorite every year. And this year's does not disappoint, with an endless graveyard, witches, secret cities, sinister aliens, and a vampire novella by Greg Egan!
This issue contains fiction by Carrie Vaughn, Suzanne Palmer, Sheila Finch, Leah Cypess, Robert Reed, and many others. Here's editor Sheila Williams' description.
Our annual slightly spooky September/October 2018 issue is rising out of the gloaming. It's filled with chills and thrills! In our terrifying cover story, "3-adica," you'll find vampires and other evil monsters as well as all the math you might expect from Greg Egan. There are many secrets to decode in this frightening novella. Don't miss it!

You'll rendezvous with more alarming creatures in Carrie Vaughn's tale of "The Huntsman and the Beast"; discover what it's like to be under the control of a rigid democracy with alien influences in Robert Reed's "Denali"; walk through an endless graveyard with Sheila Finch to meet some eerie "Survivors"; see the lighter side of humanity's eventual doom in Suzanne Palmer's "R.U.R.-8?"; and observe true bravery in Doug C. Souza's "Callisto Stakes." In her first Asimov's tale, Stephanie Feldman reveals why it's a good idea to beware "The Witch of Osborne Park"; new author Erin Roberts paints a perfect picture of horror in "The Grays of Cestus V"; Rick Wilber's taut new novella about Moe Berg divulges the location of "The Secret City"; David Erik Nelson encounters excruciating horror "In the Sharing Place"; Leah Cypess tells a haunting tale about why Revenge is "Best Served Slow"; and in her unsettling first story for Asimov's Jean Marie Ward invites us to jump into "The Wrong Refrigerator."

"I Invent the Compact Disc in 1961," says Robert Silverberg in his Reflections column, and he's delighted to have done so; James Patrick Kelly's On the Net considers the "X O"; Norman Spinrad's On Books goes "Outside the Envelope" to review works by Jeff Noon, Michael Houellebecq, and Boualem Sansal; plus we'll have an array of poetry and other features you're sure to enjoy.
Here's the complete Table of Contents.
NOVELLAS
"3-adica" by Greg Egan
"The Secret City" by Rick Wilber
NOVELETTES
"The Huntsman and the Beast" by Carrie Vaughn
"DENALI" by Robert Reed
"The Wrong Refrigerator" by Jean Marie Ward
SHORT STORIES
"The Witch of Osborne Park" by Stephanie Feldman
"R.U.R.-8?" by Suzanne Palmer
"The Grays of Cestus V" by Erin Roberts
"The Callisto Stakes" by Doug C. Souza
"Survivors" by Sheila Finch
"In the Sharing Place" by David Erik Nelson
"Best Served Slow" by Leah Cypess
POETRY
Vampire Fortuneteller by Bruce Boston
Song of the Peat Hag by Jane Yolen
The Golem by William Shunn
The Temple Necromanteion by Robert Frazier
Ghosts of Robots by Herb Kauderer
The Lovecraft Ritual by William John Watkins
Packing for the Afterlife by Mary Soon Lee
DEPARTMENTS
Editorial: Thirty-Second Annual Readers' Awards' Results by Sheila Williams
Reflections: I Invent the Compact Disc in 1961 by Robert Silverberg
On the Net: X O by James Patrick Kelly
Next Issue
On Books by Norman Spinrad
The SF Conventional Calendar by Erwin S. Strauss
See the current issue, with story excerpts and links to free online content, here.
The spooky and beautiful cover is by Eldar Zakirov.
The issue will be on sale until October 23.
Asimov's Science Fiction is edited by Sheila Williams and published by Dell Magazines. The cover price is $7.99 for 208 pages; a one-year subscription is $34.97 (US) or $49.97 (International). It is also available in a variety of digital formats.
We last covered Asimov's SF with the March/April 2018 issue.
Our Late May Fantasy Magazine Rack is here. See all of our recent fantasy magazine coverage here.