Birthday Reviews: Nick Pollotta's "The Collar"
Birthday Reviews: Nick Pollotta's "The Collar"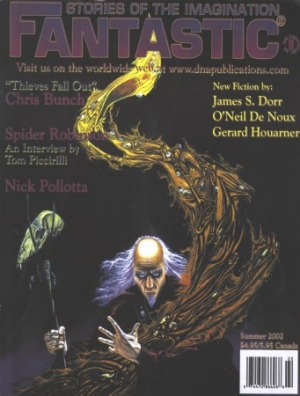 Nick Pollotta was born on August 26, 1954 and died on April 13, 2013.
Although Pollotta published the novel Illegal Aliens with Phil Foglio and his own Bureau 13 novels, the vast majority of Pollotta's work appeared using the house names James Axler and Don Pendleton for Gold Eagle Books's line of adventure novels. He also wrote the Satellite Night News series using the pen name Jack Hopkins. He also wrote That Darn Squid God in collaboration with James Clay.
Pollotta published "The Collar" in the Summer 2002 issue of Fantastic Stories of the Imagination, edited by Edward J. McFadden. Fantastic was a continuation of the magazine Pirate Writings, which had changed its name in 2000. The story has not been reprinted.
"The Collar" is the story of a professional hitman who has been hired to kill an old man. Although he generally doesn't care who he kills as long as he gets paid, when he sees that the old man, who lives alone, has an enormous arsenal of weapons as well as religious artifacts, his curiosity is piqued. An interview/interrogation of the bagman sent to pay him by his unseen employer makes him even more suspicious and he realizes that he was hired by a vampire to kill a vampire hunter.
Pollotta is known for his humorous science fiction stories, and when his hit man goes to confront the vampire only to realize that the supernatural creature is not a vampire, but a full-fledged demon, Pollotta could have had plenty of room for humor. However, he chose to take a more serious tack with the story, following the competent hitman's confrontation with the demon and the aftermath.
The story is well thought out and Pollotta handles the action scenes quite well. Although a reader familiar with Pollotta's works would expect more humor in the story, and there is some, the story works quite well without any additional humor added and shows Pollotta's ability to write a fun story that undermines preconceptions and takes a disreputable character for its protagonist and makes him relatable.
Reviewed in its only appearance in the magazine Fantastic Stories of the Imagination #23, edited by Edward J. McFadden, Summer 2002.
---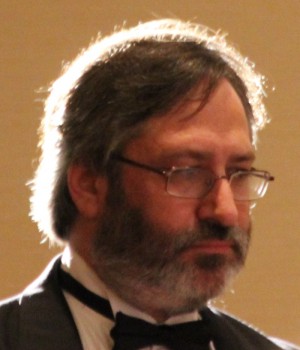 Steven H Silver is a sixteen-time Hugo Award nominee and was the publisher of the Hugo-nominated fanzine Argentus as well as the editor and publisher of ISFiC Press for 8 years. He has also edited books for DAW and NESFA Press. He began publishing short fiction in 2008 and his most recently published story is "Doing Business at Hodputt's Emporium" in Galaxy's Edge. Steven has chaired the first Midwest Construction, Windycon three times, and the SFWA Nebula Conference 6 times, as well as serving as the Event Coordinator for SFWA. He was programming chair for Chicon 2000 and Vice Chair of Chicon 7. He has been the news editor for SF Site since 2002.