Birthday Reviews: Ward Moore's "Rebel"
Birthday Reviews: Ward Moore's "Rebel"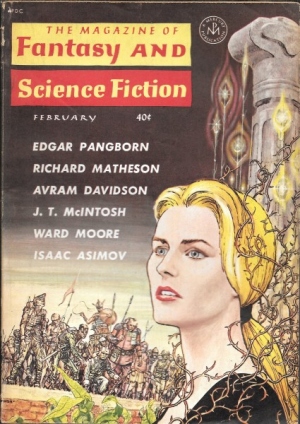 Joseph Ward Moore was born on August 10, 1903 and published fiction using the name Ward Moore. Moore died on January 29, 1978.
Moore's most famous work was the novel Bring the Jubilee, an alternate history about the Civil War. His stories "Lot" and "Lot's Daughter," form a post-apocalyptic future which was collected and expanded into the novel Lot, which formed the basis for the film Panic in Year Zero! He collaborated with Avram Davidson on the novel Joyleg and with Robert Bradford on Caduceus Wild.
"Rebel" originally appeared in the February 1962 issue of The Magazine of Fantasy and Science Fiction, edited by Robert P. Mills. It was reprinted in the June issue of the British edition of the magazine the same year and a month later was translated into French for its appearance in Fiction #104. Ida Purnell Stone included the story in her anthology Never in This World while Demètre Ioakimidis, Gérard Klein, and Jacques Goimard reprinted the French translation in their anthology Histoires de demain.
Moore takes a very simple idea in "Rebel" and runs with it. Bach and Smith and his wife only want what's best for their son, Caludo, just as parents throughout history. Unfortunately, just like children throughout history, Caludo is rebelling against his parents' values and insists that he isn't going through a phase and his desires are just as legitimate as theirs. What sets the story apart is that in the Smiths' world, the norm is based in artistic endeavor and Caludo wants to go into business.
The Smiths consider Caludo's attire, jacket and trousers, to be a bizarre affectation, although Caludo, who also insists on sitting up in a straight backed chair, informs them he wears the constricting clothing rather than robes and togas because he finds it comfortable. Moore pulls out every argument a parent has made in favor of capitalism and fitting in and restructured it to fit into the milieu of a world in which capitalism is seen as a quaint historical artifact. It was good enough for the Grand Masters like Rockefeller and Carnegie, but it surely has no place in the modern world.
Moore's story satirizes the idea that parents want to ensure their values in their children by reversing the value structure prevalent at the time of its publication while at the same time demonstrating that their children's rebellion will actually be successful in upturning the status quo.
Reviewed in its original publication the magazine The Magazine of Fantasy and Science Fiction, edited by Robert P. Mills, February 1962.
---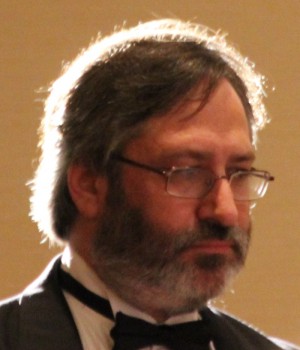 Steven H Silver is a sixteen-time Hugo Award nominee and was the publisher of the Hugo-nominated fanzine Argentus as well as the editor and publisher of ISFiC Press for 8 years. He has also edited books for DAW and NESFA Press. He began publishing short fiction in 2008 and his most recently published story is "Doing Business at Hodputt's Emporium" in Galaxy's Edge. Steven has chaired the first Midwest Construction, Windycon three times, and the SFWA Nebula Conference 6 times, as well as serving as the Event Coordinator for SFWA. He was programming chair for Chicon 2000 and Vice Chair of Chicon 7. He has been the news editor for SF Site since 2002.