Future Treasures: Annex by Rich Larson
Future Treasures: Annex by Rich Larson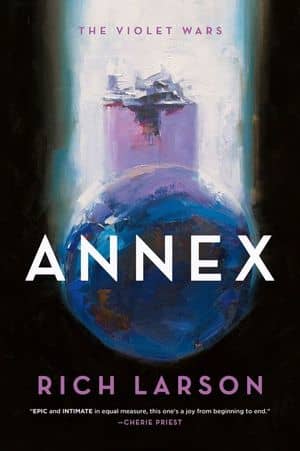 If you've been paying attention at all to short fiction recently you've likely come across Ottawa author Rich Larson. He burst onto the scene in late 2012, and over the past six years he's sold over 100 stories — that's more than one per month. He's appeared virtually everywhere, including Interzone, Asimov's SF, Clarkesworld, Beneath Ceaseless Skies, Daily Science Fiction, Tor.com, Apex, Analog, F&SF, Lightspeed, OMNI, and anthologies like Infinity Wars, Upgraded, The Book of Swords, and Clockwork Phoenix 5.
In 2016 Jonathan Strahan proclaimed "this year seems to belong to Rich Larson and Dominica Phetteplace, both of whom have had fine stories in a range of publications," and Gardner Dozois called him "one of the best new writers to enter science fiction in more than a decade." His work has appeared in numerous Year's Best anthologies, including five different 2018 volumes from Rich Horton, Neil Clarke, Jonathan Strahan, David Afsharirad, and Gardner Dozois. Anticipation for his debut novel Annex has been extremely high, and it arrives this month from Orbit.
In Rich Larson's astonishing debut Annex, only outsiders can fight off the true aliens.

At first it is a nightmare. When the invaders arrive, the world as they know it is destroyed. Their friends are kidnapped. Their families are changed.

Then it is a dream. With no adults left to run things, Violet and the others who have escaped capture are truly free for the first time. They can do whatever they want to do. They can be whoever they want to be.

But the invaders won't leave them alone for long…

This thrilling debut by one of the most acclaimed short form writers in science fiction tells the story of two young outsiders who must find a way to fight back against the aliens who have taken over her city.
Rich's first collection, Tomorrow Factory, will also be released in October from Talos Press. Get more details here.
Annex, the opening book in The Violet Wars, will be published by Orbit Books. It is 368 pages, priced at $15.99 in trade paperback and $4.99 for the digital edition. The cover is by Greg Manchess. Check out the intriguing cover reveal at the Barnes & Noble Sci-Fi & Fantasy Blog.