Birthday Reviews: Susan Casper's "Mama"
Birthday Reviews: Susan Casper's "Mama"
Cover by Paul Chadwick
Susan Casper was born on May 8, 1947 and died on February 24, 2017. Casper was married to author and editor Gardner Dozois.
Casper's first story was "Spring-Fingered Jack" in 1983 and in 1988, she co-edited the anthology Ripper! (also Jack the Ripper). Other stories included "Covenant with a Dragon," "Nine Tenths of the Law" and "Up the Rainbow." Her short fiction was collected posthumously in Up the Rainbow: The Complete Short Fiction of Susan Casper and she also had a novel, The Red Carnival, published posthumously.
"Mama" first appeared in The Magazine of Fantasy and Science Fiction, edited by Edward L. Ferman, in the August 1984 issue. It would be reprinted in 2017 in Up the Rainbow.
Gloria's mother is over-bearing and somewhat typical of a Jewish mother in "Mama," although she could have been just as stereotypical had she been a mother of numerous other ethnicities. The key is that she disapproves of Gloria's life choices and while Gloria is just trying to live her own life, suffering from a sudden breakup with the boyfriend she didn't seem to have much invested it, her mother is trying to "fix" her life, making it better in the only way she knows how.
While Gloria goes to a party to help her move past her boyfriend's departure, her mother stitches a strange prayer cloth for her and meets with the enigmatic Mrs. Votash. Mama is clearly attempting to use Jewish folk magic to make Gloria more amenable to the life she has selected for her daughter.
Most of the volition in the story comes from Gloria's Mama, although it is off screen. Gloria's life is more focused on her mother, what her mother would like or not like, and whether she should worry about pleasing or annoying her mother, than on what she really wants for herself. The story is short and fun, but leaves questions unanswered, both about the characters' relationship and Mama's solution.
Reviewed in its original publication in The Magazine of Fantasy and Science Fiction, edited by Edward L. Ferman, August 1984.
---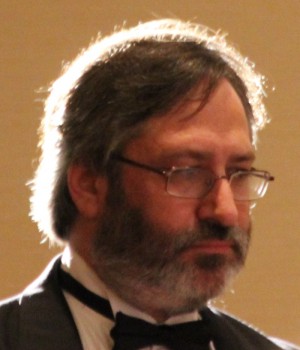 Steven H Silver is a sixteen-time Hugo Award nominee and was the publisher of the Hugo-nominated fanzine Argentus as well as the editor and publisher of ISFiC Press for 8 years. He has also edited books for DAW and NESFA Press. He began publishing short fiction in 2008 and his most recently published story is "Doing Business at Hodputt's Emporium" in Galaxy's Edge. Steven has chaired the first Midwest Construction, Windycon three times, and the SFWA Nebula Conference 5 times, as well as serving as the Event Coordinator for SFWA. He was programming chair for Chicon 2000 and Vice Chair of Chicon 7. He has been the news editor for SF Site since 2002.