Birthday Reviews: Joel Rosenberg's "The Blink of a Wizard's Eye"
Birthday Reviews: Joel Rosenberg's "The Blink of a Wizard's Eye"
Cover by Clyde Caldwell
Joel Rosenberg was born on May 1, 1954 and died on June 4, 2011.
Rosenberg published the Guardians of the Flame series, beginning with The Sleeping Dragon in 1983, about a group of role playing gamers magically transported to a fantasy world where they must deal with the stereotypical magical world, bringing along their modern points of view and knowledge. The series ran for ten volumes through 2003.
Rosenberg also published the four volumes set in his Thousand Worlds science fiction milieu and his other fantasy series: Keepers of the Hidden Ways, D'Shai, and Mordred's Heirs. Along with Raymond Feist, he wrote Murder in Lamut, a novel set in Feist's Riftwar setting. His short story "The Last Time" was set in Robert Adams's Horseclans universe.
In addition to his speculative fiction, Rosenberg also worked as a gun rights advocate, running gun training classes and writing handbooks on gun ownership specific to Minnesota and Wisconsin. Rosenberg also wrote two volumes about Sparky Hemingway, a mystery series featuring a main character who is a copy-editor. Rosenberg also invited me to my first science fiction convention, which is how I got involved in all of this.
Editor Kim Mohan purchased "The Blink of a Wizard's Eye" and it appeared in issue 71 of Dragon magazine, published in March, 1983. The story has not been reprinted.
"The Blink of a Wizard's Eye" is the tale of two wizards who lived on Earth thousands of years ago in a tense rivalry. Although Lohim and Cipher are together in a bar enjoying each other's company as the story opens, it is clear that they are enemies, yet at the same time as the only wizards in existence they are the only ones who can understand each other.
Rosenberg carefully delineates his definition of wizards for the purposes of the story, including the important note that their power increases and they have more control over it the further away the magical effects are from the source. This means that the wizards are at their safest when they are in close proximity to each other.
Unfortunately, Lohim and Cipher are both suffering from ennui brought about by their feelings of complete separation from the human race and the need to carry out their wizards' duel. Eventually, Lohim realizes that the two could theoretically work together to strengthen each other, but his formulas indicate the solution isn't feasible. Cipher comes up with a solution that would work and transform the two wizards into practical gods with relation to their ability to cast magic on Earth.
While the two wizards are drawn distinctly, their motivations seem a little light, both in their rivalry and their solution to their ongoing boredom. By placing them in a deserted inn, Rosenberg does not have to show how they live or interact with the world around them, and the little interaction he does show, as a band of locals gather outside the inn, makes those normals, as the wizards think of them, little more than props.
Reviewed in its only publication in Dragon Magazine #71, edited by Kim Mohan, March 1983.
---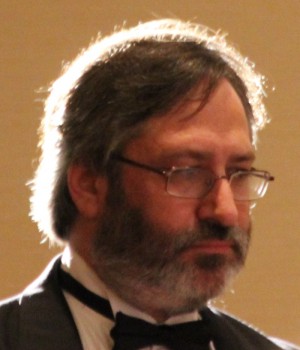 Steven H Silver is a sixteen-time Hugo Award nominee and was the publisher of the Hugo-nominated fanzine Argentus as well as the editor and publisher of ISFiC Press for 8 years. He has also edited books for DAW and NESFA Press. He began publishing short fiction in 2008 and his most recently published story is "Doing Business at Hodputt's Emporium" in Galaxy's Edge. Steven has chaired the first Midwest Construction, Windycon three times, and the SFWA Nebula Conference 5 times, as well as serving as the Event Coordinator for SFWA. He was programming chair for Chicon 2000 and Vice Chair of Chicon 7. He has been the news editor for SF Site since 2002.