Birthday Reviews: Keith R.A. DeCandido's "A Vampire and a Vampire Hunter Walk into a Bar"
Birthday Reviews: Keith R.A. DeCandido's "A Vampire and a Vampire Hunter Walk into a Bar"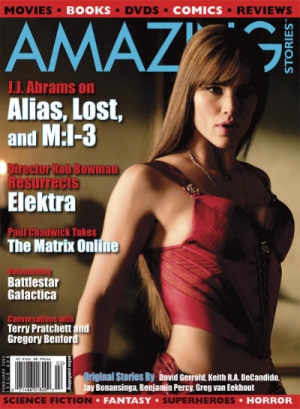 Keith R.A. DeCandido was born on April 18, 1969.
DeCandido has written the Precinct series as well as works in a number of licenses series, including Star Trek, Buffy the Vampire Slayer, StarGate SG-1, and Dungeons and Dragons  In 2005, he published the official novelization of the film Serenity. DeCandido has also written numerous comics and blogs for Tor.com. In 2009, he was inducted as a Grand Master by the Scribe Awards for his work on media tie-in publications.
"A Vampire and a Vampire Hunter Walk Into a Bar" was published in the final print issue of Amazing Stories from Paizo Publishing, cover dated February 2005. The story has not been reprinted since.
The very clichés which DeCandido skewers in "A Vampire and a Vampire Hunter Walk Into a Bar" are what cause the story to work. On its surface, it's the tale of the two title characters sitting in a bar complaining about the expectations the public has about them, particularly the vampire, based on the films Nosferatu, Dracula, and the television series Buffy the Vampire Slayer.
However, the very sense of camaraderie the characters show is based on the idea that during the Victorian period, when Dracula was first published, gentlemen antagonists would have a level of respect for each other's abilities.
The story is a lighthearted look at two individuals whose (incredibly long) lives are linked together. The humor of the piece comes from how pedestrian their interaction is under the most extraordinary of circumstances. The story also serves to deconstruct the vampire story by questioning all of the things people "know" about vampires.
Reviewed in its only publication in the magazine Amazing Stories, edited by Jeff Berkwits, February 2005.
---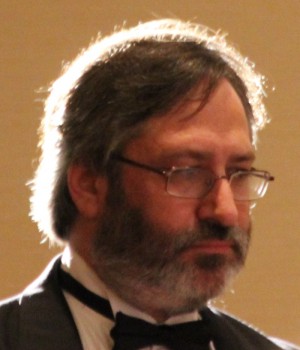 Steven H Silver is a sixteen-time Hugo Award nominee and was the publisher of the Hugo-nominated fanzine Argentus as well as the editor and publisher of ISFiC Press for 8 years. He has also edited books for DAW and NESFA Press. He began publishing short fiction in 2008 and his most recently published story is "Doing Busines at Hodputt's Emporium" in Galaxy's Edge. Steven has chaired the first Midwest Construction, Windycon three times, and the SFWA Nebula Conference 5 times, as well as serving as the Event Coordinator for SFWA. He was programming chair for Chicon 2000 and Vice Chair of Chicon 7. He has been the news editor for SF Site since 2002.