Reading Alan Moore's Halo Jones for the First Time
Reading Alan Moore's Halo Jones for the First Time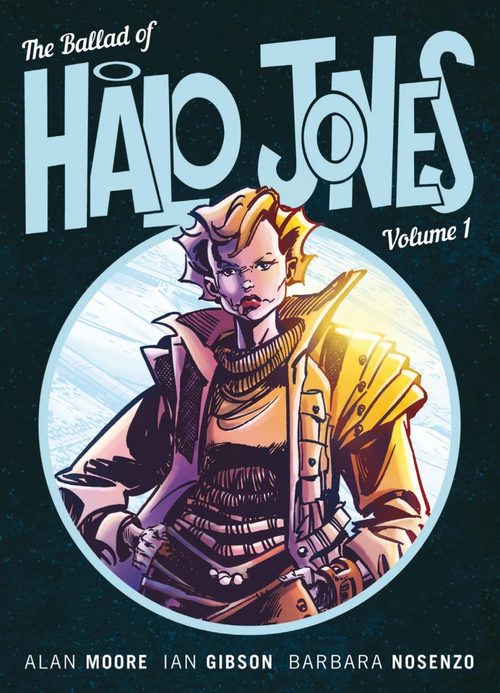 Talk long enough with people about the British comic publisher 2000AD and you'll eventually get into a conversation about where The Ballad of Halo Jones fits in the ranking of Alan Moore's work. A few people have said that Halo Jones is Alan Moore's greatest work, and it is frequently called Moore's unknown classic.
[Click the images for bigger versions,]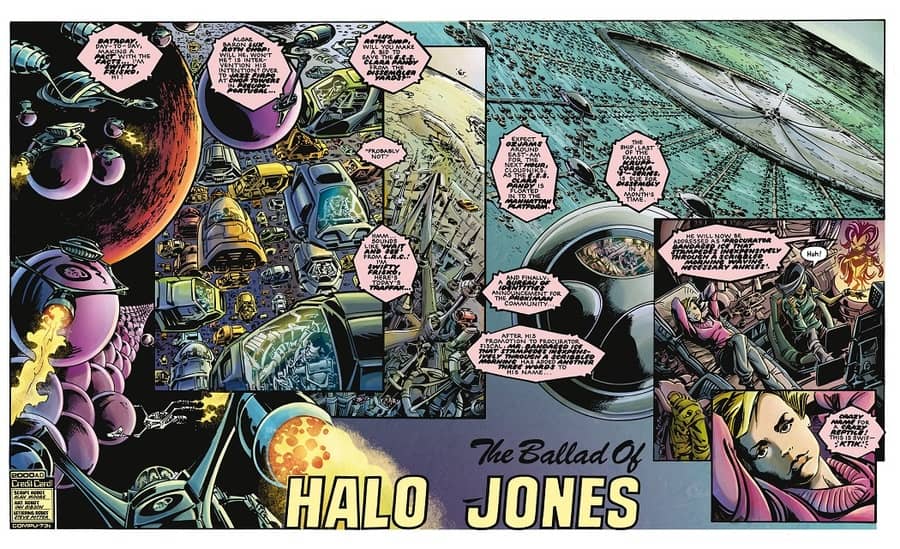 In 1984, while Alan Moore was already writing his famous Swamp Thing run, he teamed up with artist Ian Gibson in The Ballad of Halo Jones, the story of a teenage girl living in a poor floating hoop city with no possibility of a prosperous future, and quite probably a short life, due to the violence and crime and poverty where she lives.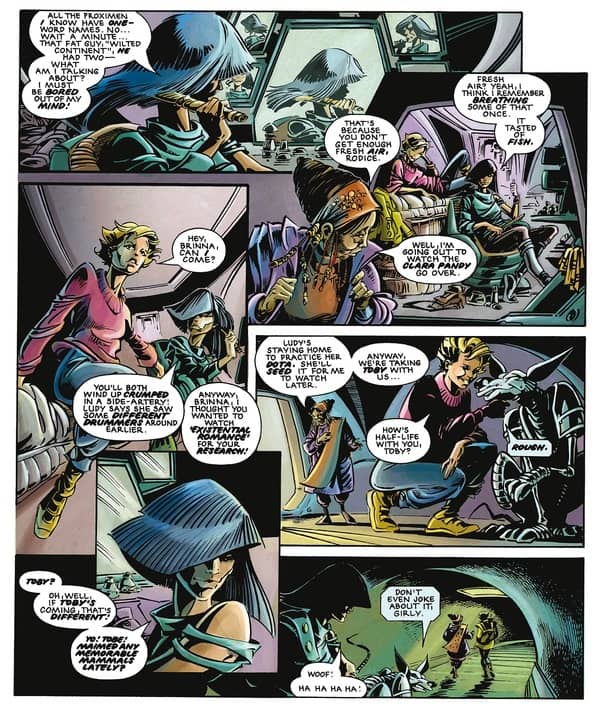 Alan Moore and Ian Gibson did the equivalent of three black and white graphic novels worth of The Ballad of Halo Jones over the next few years. The story is told in 5- and 6-page installments, as is typical of the story-telling in the weekly publication schedule of 2000AD. This type of highly serialized story-telling is fascinating to read, as it requires a dense style bereft of wasted story beat and despite this, each mini-chapter, complete with inciting incident and three acts, reads really briskly.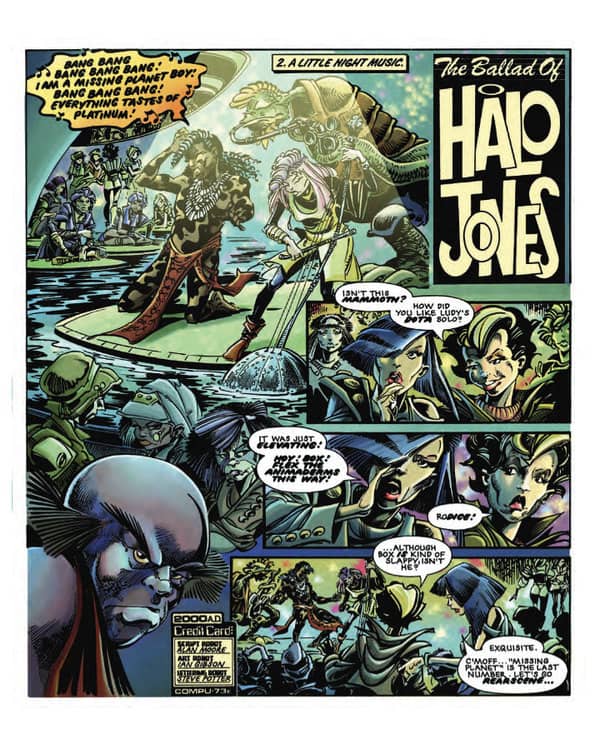 I'd never read any Halo Jones but 2000AD is launching a new colored version in May, 2018 and I managed to get my hands on an advanced review copy. What did I think?
I've read Moore's Futureshocks for 2000AD, his Watchmen obviously, his League of Extraordinary Gentlemen, and his Cthulhu-based horror works Neonomicon and Providence, both from Avatar.
Halo Jones is very different from the other work I've read by Moore. Despite the space station scifi of Halo Jones, the story is not concerned with the space station per se, nor with transforming a stale genre or series (like in Watchmen or Swamp Thing), or about the violence or action.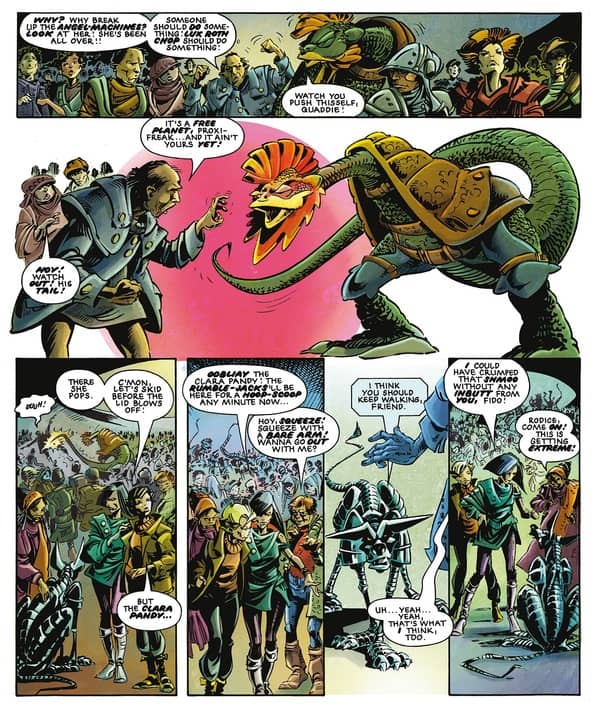 It's a story about being a teenager and having not a lot of hope. It's a story about trying to get along. Halo and her friends watch TV. Around the danger of crime, they go out to a club, and they try to get groceries, which is a 2-day trip. The circumstances are weird, but Halo is eminently relatable as a person because her wants are so earthy and so much part of the teenage experience.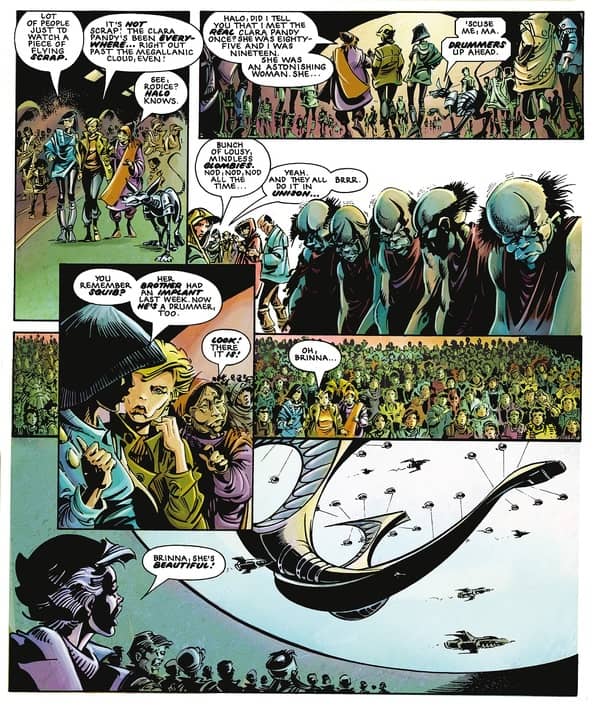 It isn't a spoiler to say that Volume 1 is about making the choice to leave the Hoop, in part because the decision is not the focus of the story; the journey is.
I got to experience Halo Jones in color for my first read, and Barbara Nosenzo's work in bringing vibrancy to the dense, claustrophobic, chaotic world of the Hoop makes it a much easier and more visceral read. I put some uncolored and colored pages side by side below to show the difference.
Ian Gibson's art is highly stylized, with proportions and postures far more likely to take on angles to evoke the emotion of the scenes than to conform to anatomy. Likewise, the inorganic world, which we'd assume would be straight-lined, is instead round, round in the corridors, round in the subway tunnels and doorways, and even the space-ship that helps crystallize Halo's decision to run looks far more like a swan than a rocket.
I really enjoyed the reading experience of The Ballad of Halo Jones, Volume 1, and as a writer, I'll be rereading for certain. This trade will be out in mid-May if you want to pick it up!
---
Derek Künsken writes science fiction and fantasy in Gatineau, Québec. The second installment of his novel The Quantum Magician is on the stands now in the Mar/Apr 2018 issue of Analog Science Fiction and Fact Magazine. He tweets from @derekkunsken.