Vintage Treasures: Ten Thousand Light-Years From Home by James Tiptree, Jr.
Vintage Treasures: Ten Thousand Light-Years From Home by James Tiptree, Jr.
James Tiptree, Jr — aka Alice Sheldon — was one of the finest science fiction writers of the 20th Century. As Thomas Parker put it in his review of her Hugo Award-winning biography The Double Life of Alice B. Sheldon, by Julie Phillips:
Alice Hastings Bradley Davey Sheldon was a remarkable person — world traveler, painter, sportswoman, CIA analyst, Ph.D. in experimental psychology… and one of the greatest of all science fiction writers. If you don't recognize her name, that's partly by her own design.

Born in 1915, from an early age Alice was a lover of this new genre that was in those days still called "scientifiction," devouring every copy of Weird Tales, Wonder Stories, and Amazing Stories that she could find, but it wasn't until the mid 60's that she tried her hand at writing any SF herself. After some false starts, she completed a few stories and in 1967, when she was 51, she sent them off to John Campbell at Analog, not really expecting anything to come of it. As she considered the whole thing something of a lark, she submitted the manuscripts under a goofy pseudonym that she and her husband, Huntington (Ting) Sheldon, cooked up one day while they were grocery shopping — James Tiptree Jr. The Tiptree came from a jar of Tiptree jam; Ting added the junior.

To Alice's professed surprise, Campbell bought one of the stories, "Birth of a Salesman." A new science fiction writer was born, one who would, in the space of just a few years, make a tremendous impact on the genre (as two Hugos, three Nebulas, and a World Fantasy Award attest, to say nothing of the James Tiptree Jr. Award, which is given to works which expand or explore our understandings of gender).
Tiptree wrote two novels, Up the Walls of the World (1978) and Brightness Falls from the Air (1985), but it's her short fiction for which she is remembered. Virtually all of her short stories have been gathered in important collections such as Her Smoke Rose Up Forever (Arkham House, 1990) and Meet Me at Infinity (Tor, 2000). But I don't think it'll come as a surprise to anyone that I prefer to read Tiptree in her original paperbacks, including her very first collection, Ten Thousand Light-Years From Home, released by Ace in 1973.
[Click the images for jumbo versions.]
Ten Thousand Light-Years From Home is a knockout collection, with two Hugo nominees and one Nebula nominee. It placed fourth in the annual Locus Poll for Best Reprint Anthology/Collection, placing above every other collection that year (including volumes by Philip José Farmer, Philip K. Dick, Larry Niven and Gordon R. Dickson), and losing out only to The Science Fiction Hall of Fame, Volume Two B and Best Science Fiction of the Year anthologies by Terry Carr and Donald A. Wollheim.
While Tiptree's style evolved over the years this book covers, my favorite story remains one of her first, "Beam Us Home," about a Star Trek fan who finds a way capture the true spirit of his favorite show.
In fact, my only critique of Tiptree's Ace collections is the atrocious copy editing. If you're looking for the definitive versions of her early stories, the later hardcover collections are probably the ones you want.
Here's the TOC for Ten Thousand Light-Years From Home.
Introduction by Harry Harrison
"And I Awoke and Found Me Here on the Cold Hill's Side" (The Magazine of Fantasy and Science Fiction, March 1972) — Nebula, Hugo nominee
"The Snows Are Melted, the Snows Are Gone" (Venture Science Fiction Magazine, November 1969)
"The Peacefulness of Vivyan" (Amazing Science Fiction, July 1971)
"Mamma Come Home" (If, June 1968)
"Help" (If, October 1968)
"Painwise" (The Magazine of Fantasy and Science Fiction, February 1972) — Hugo nominee
"Faithful to Thee, Terra, in Our Fashion" (Galaxy Magazine, January 1969)
"The Man Doors Said Hello To" (Worlds of Fantasy, Winter 1970)
"The Man Who Walked Home" (Amazing Science Fiction, May 1972)
"Forever to a Hudson Bay Blanket" (Fantastic, August 1972)
"I'll Be Waiting for You When the Swimming Pool is Empty" (Protostars, 1971)
"I'm Too Big but I Love to Play" (Amazing Science Fiction, March 1970)
"Birth of a Salesman" (Analog, March 1968)
"Mother in the Sky With Diamonds" (Galaxy Magazine, March 1971)
"Beam Us Home" (Galaxy Magazine, April 1969)
The book sold well enough to have a 1977 UK edition from Panther, and a 1978 Ace edition with a new cover by Patrick Woodroffe, which you can see above. Here's Chris Foss' original cover, for the 1973 edition.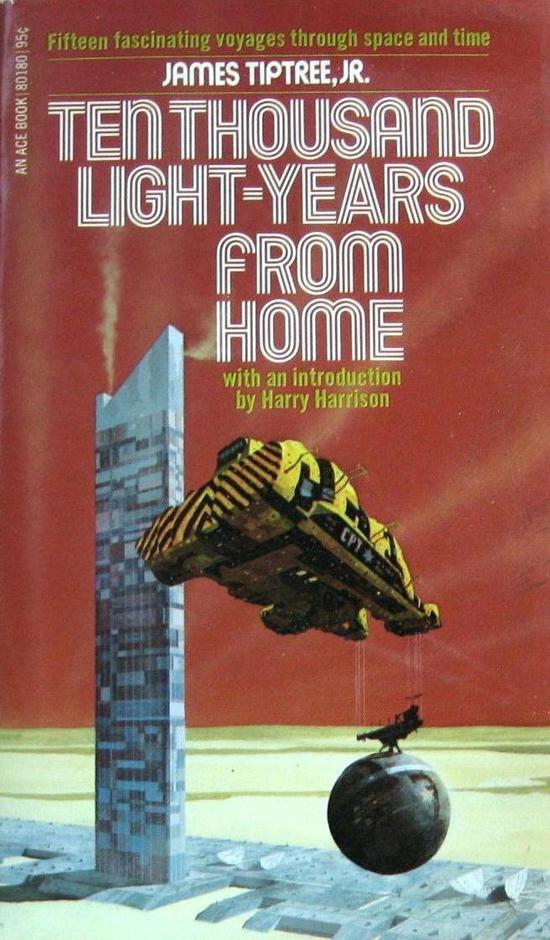 Ace 1973 edition. Cover by Chris Foss
Ten Thousand Light-Years From Home is not a rare book. It sold well in multiple editions, and you can usually find 3-4 copies on eBay priced under $10. It's well worth a look.
Ten Thousand Light-Years From Home was published by Ace Books in June 1973, and reprinted by Ace in April 1978. The reprint edition is 374 pages, priced at $1.95, with a cover by Patrick Woodroffe.
See all our recent Vintage Treasures here.