Stories of Wild Childhood Adventure: The Wildwood Chronicles by Colin Meloy
Stories of Wild Childhood Adventure: The Wildwood Chronicles by Colin Meloy
Colin Meloy is a talented guy. As the frontman for the rock band The Decemberists he's sold over a million records around the world. His debut novel, Wildwood, became a New York Times bestseller, and grew into a bestselling trilogy that has been called "full of suspense and danger and frightening things the world has never seen," (Lemony Snicket), and which Michael Chabon calls "Dark and whimsical, with a true and uncanny sense of otherworldliness… the heir to a great tradition of stories of wild childhood adventure." Here's the description for the first volume.
Prue McKeel's life is ordinary. That is, until her brother is abducted by a murder of crows and taken to the Impassable Wilderness, a dense, tangled forest on the edge of Portland.

So begins an adventure that will take Prue and her friend Curtis deep into the Impassable Wilderness. And what begins as a rescue mission becomes something much greater as the two friends find themselves entwined in a struggle for the very freedom of this wilderness. A wilderness the locals call Wildwood.
All three novels in the series are illustrated by Carson Ellis, the acclaimed illustrator of The Mysterious Benedict Society. Here's a look at all three back covers.
[Click the images for bigger versions.]
All three books are available in paperback from Balzer + Bray. Here's the complete publishing details.
Wildwood (576 pages, $9.99 in paperback, $6.99 in digital formats, August 30, 2011)
Under Wildwood (592 pages, $9.99 in paperback, $6.99 in digital formats, September 25, 2012)
Wildwood Imperium (592 pages, $9.99 in paperback, $7.99 in digital formats, February 4, 2014)
The covers are by Carson Ellis. All three books are still in print.
I bought the trilogy as a boxed set priced at $29.97, because I think it looks cool on my bookshelf.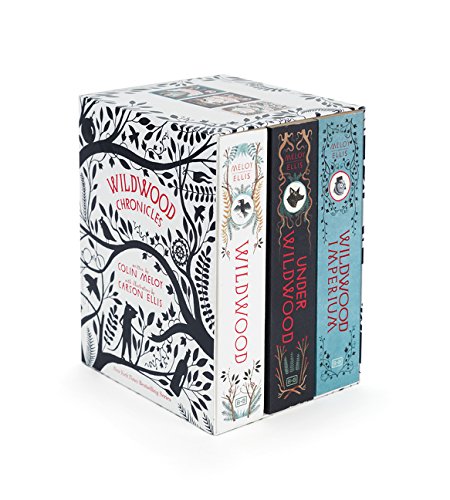 Colin Meloy is also the author of The Whiz Mob and the Grenadine Kid, just released in hardcover by Balzer + Bray. It is also illustrated by Carson Ellis.
See all our recent coverage of Series Fantasy here.