Goth Chick News, New Treasures: Demon Freaks by J.R.R.R. (Jim) Hardison
Goth Chick News, New Treasures: Demon Freaks by J.R.R.R. (Jim) Hardison
As a huge fan of Grady Hendrix's My Best Friend's Exorcism, and since I was trying to figure out what to do with myself now that I've binge-watch Stranger Things 2… twice… I was particularly excited to open up the latest intriguing book release from my pals over at Wunderkind PR.
First, the author's name is J.R.R.R. (Jim) Hardison, and whether that's a joke or not, it's funny, at least to me – like he wanted to outdo John O's buddy George R. R. Martin by one "R" and see him a "J." Next, Hardison's bio is rather amusing, as well as impressive:
Jim has an epically silly career. He's been a movie producer (The Creature from Lake Michigan), an animation director (UPNs Gary and Mike), a screen writer (Popeye's Voyage, SeeMore's Playhouse) and a graphic novelist (The Helm). He even appeared on the NBC show The Apprentice as an expert adviser on brand characters. This is his second novel following his epically silly fantasy Fish Wielder.
Last, according to the additional information Wunkerkind shared, Jim would love to entertain interview questions concerning why horror films often feature bands as his current novel does.
Do they? I mean, Jennifer's Body did, but that's the only one I can think of off the top of my head, but okay.
And… he's a Chicago boy having attended Columbia College, so let's give it a go.
Hardison's latest work is called Demon Freaks and takes place the night before the SAT test when the forces of darkness are stirring. And though that's nothing any high school student couldn't attest to, again… funny.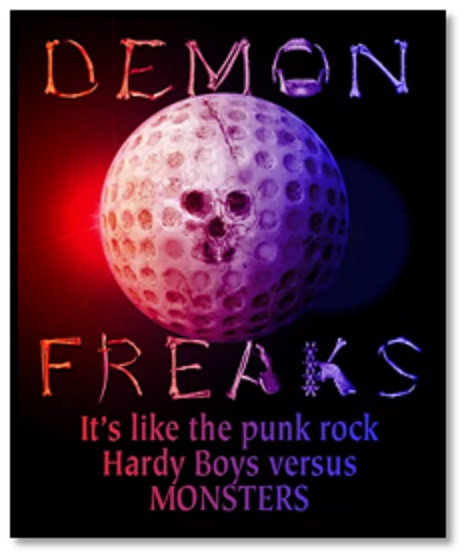 Horror and humor, now you're talking.
Twin brothers, Bing and Ron Slaughter, know they've got to cram like their lives depend on it because their college plans sure do. If they don't ace the test, they'll be doomed to spend the rest of their days flipping burgers at the McDonald's their parents run.

That's why they hatch a plan to meet up with the members of their punk band, the Ephits, spend the night studying at a secluded cabin in the woods, and maybe squeeze in a little jamming. What could go wrong with a brilliant plan like that?

Ancient evil, that's what.

As a cataclysmic lightning storm rolls in, Bing, Ron and the rest of the Ephits find themselves tangled in a sinister plot to summon a demon. Yes, demons are real. To survive the night, the band must find a malevolent artifact, battle bloodthirsty monsters and stand against the most dangerous and powerful foe humanity has ever faced… the Golfer's Association.
Okay, having always suspected there was a hidden evil in the concept of golf, I'm hooked. I mean think about it; secret clubs, horrifying clothing and ceremonial sticks; nothing but evil if you ask me.
And so, once again Wunderkind saves me from either watching The Shining for the 900th time, or rereading Jaws. I've just started Demon Freaks and its as odd and entertaining as I imagined it would be.
Demon Freaks by J.R.R.R (Jim) Hardinson was released on October 3rd and is available where all fine reading material is sold. Have a question or comment? Post it here or drop a line to sue@blackgate.com.