New Treasures: Infinite Stars, edited by Bryan Thomas Schmidt
New Treasures: Infinite Stars, edited by Bryan Thomas Schmidt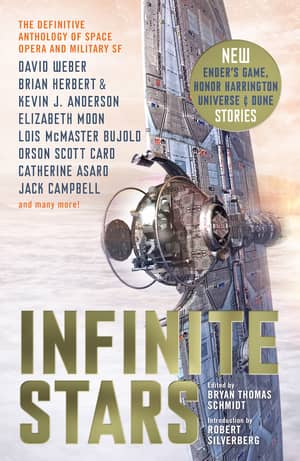 Bryan Thomas Schmidt is probably best known as the guy who loudly stormed out of the 2015 Hugo Awards when he lost in the Best Editor, Short Form category (he lost to No Award, since all the nominees were dictated by Vox Day as part of his Rabid Puppy slate). Black Gate was part of the same slate, but we withdrew our nomination (and Bryan unfriended me immediately thereafter).
That's an unfortunate thing to be known for, especially since Bryan has done some really excellent work before and since. His other anthologies include Shattered Shields, Little Green Men―Attack!, Mission: Tomorrow, Galactic Games, and many others. His latest book, the massive Infinite Stars, is the most ambitious project of his career to date: a 674-page anthology of space opera tales featuring some of the biggest names in the industry. Here's Rich Horton's take, from the October issue of Locus.
Bryan Thomas Schmidt's new anthology Infinite Stars is a big collection of space opera stories, split roughly evenly between reprints and originals. The reprints serve to some extent as an introduction to the subgenre, with examples from such classic series as Cordwainer Smith's Instrumentality of Mankind, Anne McCaffrey's Ship Who Sang books, Lois McMaster Bujold's Vorkosigan series, A.C. Crispin's Starbridge, and Larry Niven and Jerry Pournelle's Codominium… These serve their purpose very well — they are a set of significant stories and showcase space opera from the '50s to the present day nicely…

Most of the other stories in this book are also parts of series… these series include some really major SF landmarks: Orson Scott Card's Ender universe, Brian Herbert and Kevin J. Anderson continuing Frank Herbert's Dune series, David Weber's Honorverse. There are stories from some more recent series that I've really enjoyed — Elizabeth Moon's Vatta's War, for example (which she has just returned to), and David Drake's Leary/Mundy (or RCN) series. It was nice also to be introduced to some work new to me, such as Linda Nagata's Red stories, Jack Campbell's Lost Fleet, and Charles R. Gannon's Caine Riardon stories…

All in all, Infinite Stars is a strong celebration of the variety and power of the space opera subgenre, both in its history and its ongoing vitality.
As Rich points out, there's a great deal to enjoy in this book for any fan of space opera, old and new.
The book contains 24 stories — including four big novellas from Charles E. Gannon, Nnedi Okorafor, Lois McMaster Bujold, and Orson Scott Card. It contains two Hugo Winners, Cordwainer Smith's "The Game Of Rat and Dragon," and Nnedi Okorafor Binti (which also won the Nebula Award).
Robert Silverberg provides a 10-page introduction, which serves as a fine retrospective of space opera, covering E.E. "Doc" Smith, Edmond Hamilton, Jack Williamson, C.L. Moore, Leigh Brackett, Robert A. Heinlein, and even Star Wars and Star Trek.
Here's the complete Table of Contents.
Editor's Note/Acknowledgements by Bryan Thomas Schmidt
Introduction by Robert Silverberg
"Renegat" (Ender) by Orson Scott Card
"The Waters Of Kanly" (Dune) by Brian Herbert & Kevin J. Anderson
"The Good Shepherd" (Legion of the Damned) by William C. Dietz
"The Game Of Rat and Dragon" by Cordwainer Smith (Galaxy Science Fiction, October 1955)
"The Borders of Infinity" (Vorkosigan) by Lois McMaster Bujold (Free Lancers, 1987)
"All In A Day's Work" (Vatta's War) by Elizabeth Moon
"Last Day Of Training" (Lightship Chronicles) by Dave Bara
"The Wages of Honor" (Skolian Empire) by Catherine Asaro
Binti by Nnedi Okorafor (2015)
"Reflex" (CoDominium) by Larry Niven and Jerry Pournelle (There Will Be War, 1983)
"How To Be A Barbarian in the Late 25th Century" (Theirs Not To Reason Why) by Jean Johnson
"Stark and the Star Kings" (Eric John Stark) by Leigh Brackett and Edmond Hamilton (Stark and the Star Kings, 2005)
"Imperium Imposter" (Imperium) by Jody Lynn Nye
"Region Five" (Red Series) by Linda Nagata
"Night Passage" (Revelation Space) by Alastair Reynolds
"Duel on Syrtis" by Poul Anderson (Planet Stories, March 1951)
"Twilight World" (StarBridge) by A.C. Crispin (Raygun Chronicles: Space Opera for a New Age, 2013)
"Twenty Excellent Reasons" (The Astral Saga) by Bennett R. Coles
"The Ship Who Sang" by Anne McCaffrey (The Magazine of Fantasy and Science Fiction, April 1961)
"Taste of Ashes" (Caine Riardon) by Charles E. Gannon
"The Iron Star" by Robert Silverberg (The Universe, 1987)
"Cadet Cruise" (Lt. Leary) by David Drake (Baen.com, May 2016)
"Shore Patrol" (Lost Fleet) by Jack Campbell
"Our Sacred Honor" (Honorverse) by David Weber
Author and Editor Bios
Copyright and First Publication Information
Infinite Stars was published by Titan Books on October 17, 2017. It is 674 pages, priced at $24.95 in hardcover, $16.95 in trade paperback, and $9.99 for the digital edition. The cover is by Luca Oleastri. Get more details here.
See all of our recent New Treasures here.