The Future is Global Micro-Democracy: Malka Older's The Centenal Cycle
The Future is Global Micro-Democracy: Malka Older's The Centenal Cycle
Malka Older's debut novel Infomocracy made a huge splash last year — The Huffington Post called it "one of the greatest literary debuts in recent history," and it was named one of the best books of the year by The Washington Post, The Verge, Flavorwire, Kirkus, and Book Riot. In the SF community, it was a Locus Award Finalist for Best First Novel.
It's no exaggeration to say that the sequel, Null States, is one of the most anticipated novels of the year. It arrived in hardcover in September, and has been widely praised. Here's Liz Bourke at Tor.com.
This is a story about governance and governing, about power and systems, and the edges of both — the parts where they break, and warp, and potentially break down. Older's gift is to make those systems fascinating and human: relevant, and easy to grasp. Well, one of her gifts: she has great skill with evoking place and its complicated histories… Null States is a complex, sprawling novel, but one that nonetheless has the tight control and pacing of a really good thriller…

Science fiction is frequently about power and revolution, seldom about the technical stuff that makes power possible — seldom about governing, as opposed to governments in crisis. Null States, like Infomocracy, feels refreshingly new and strange — wondrously strange, in fact — because of its focus on the nitty-gritty of how things get done, and how things can be done, and whether or not this is a stable system or one whose equilibrium has reached a tipping point of some kind.
Read Liz's complete review here.
[Click the images to embiggen.]
Something I discovered only recently: Malka Older is the (older?) sister of Daniel Jose Older, author of the Bone Street Rumba trilogy. Daniel has a lively and entertaining interview with his sister (and her two-year-old daughter) concerning Infomocracy at Tor.com.
If you're like me and haven't gotten around to the first volume yet, you may find the description for Infomocracy handy.
It's been twenty years and two election cycles since Information, a powerful search engine monopoly, pioneered the switch from warring nation-states to global micro-democracy. The corporate coalition party Heritage has won the last two elections. With another election on the horizon, the Supermajority is in tight contention, and everything's on the line.

With power comes corruption. For Ken, this is his chance to do right by the idealistic Policy1st party and get a steady job in the big leagues. For Domaine, the election represents another staging ground in his ongoing struggle against the pax democratica. For Mishima, a dangerous Information operative, the whole situation is a puzzle: how do you keep the wheels running on the biggest political experiment of all time, when so many have so much to gain?
Here's the back cover for Null States.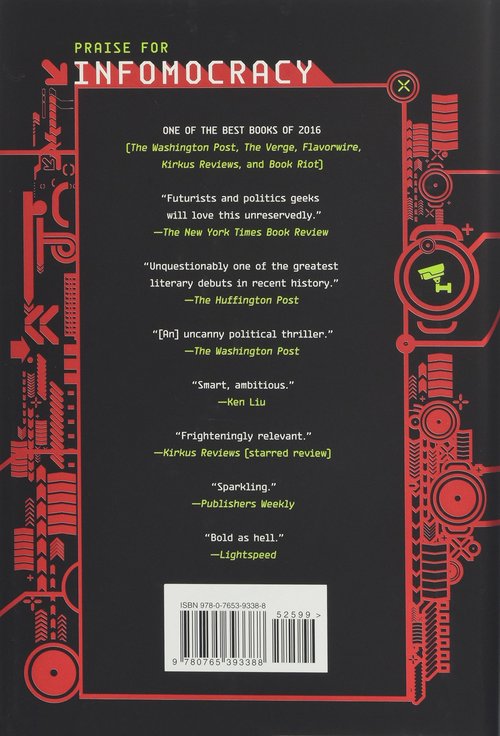 And here's the description.
The future of democracy is about to implode.

After the last controversial global election, the global infomocracy that has ensured thirty years of world peace is fraying at the edges. As the new Supermajority government struggles to establish its legitimacy, agents of Information across the globe strive to keep the peace and maintain the flows of data that feed the new world order.

In the newly-incorporated DarFur, a governor dies in a fiery explosion. In Geneva, a superpower hatches plans to bring microdemocracy to its knees. In Central Asia, a sprawling war among archaic states threatens to explode into a global crisis. And across the world, a shadowy plot is growing, threatening to strangle Information with the reins of power.
Infomocracy was published in hardcover by Tor.com on June 7, 2016, and reprinted in trade paperback on August 8, 2017. It is 400 pages, priced at $15.99 in trade paperback, and $9.99 for the digital edition. The cover is by Will Staehle. Get more details here, and read the first five chapters here.
Null States was published in hardcover by Tor.com on September 19, 2017. It is 432 pages, priced at $25.99 in hardcover, and $12.99 for the digital edition. The cover is by Will Staehle. Get more details here, and read Chapter One here.
See all our recent coverage of Series SF and Fantasy here.