Repent Your Crimes: Marvel's Black Bolt Series
Repent Your Crimes: Marvel's Black Bolt Series
I've been a Saladin Ahmed fan for a while. I probably heard his first fantasy fiction at Beneath Ceaseless Skies with Mister Hadj's Sunset Ride, or in Podcastle's Judgement of Swords and Souls (click on the links for free audio versions). I also met him in person in 2013 when I ended up at the same table as him during the Nebula Awards Banquet (where his first novel had been nominated).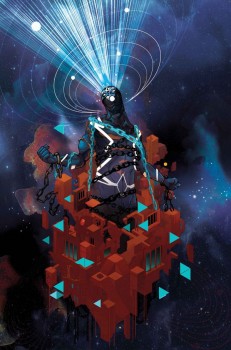 So I perked up when I saw that Marvel had Ahmed writing a new Black Bolt solo series. I picked up the first issue in June, put it in my backpack and promptly…. left it sitting in my TBR pile. For two months. And I didn't even crack it open until issue #4 was already out.
Partly, this was due to the advertising. Marvel billed this as a prison break story, with Black Bolt and Absorbing Man. I imagined a buddy adventure, an odd-couple comedy, trying to break out of a space prison or in whatever they use in Marvel for the Phantom Zone.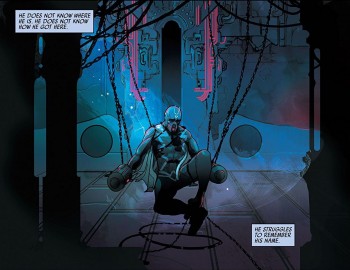 Essentially, I love Saladin Ahmed's writing and kind of wasn't sure how much I'd like the Black Bolt series (Absorbing Man? Really?). It's not that Marvel's quality worries me – it's that Marvel has such a range of voices and markets (kung fu, snarky sorcerer, dark spy, young adult, etc) that it's a mistake for me to assume I'll like the entire line.
I should have opened it in the first week. I loved it.
Firstly, the voice takes the character and situation completely seriously. The regal tone and the silent tragedy of Black Bolt is in every page.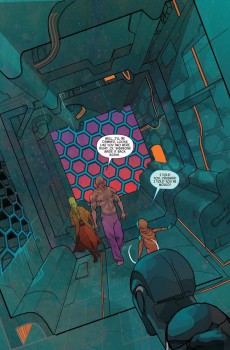 The voice is strong and heavily immersive, and in this regard, Black Bolt compares favorably to Warren Ellis' Karnak (which I reviewed last year here). The writing is moody and compelling.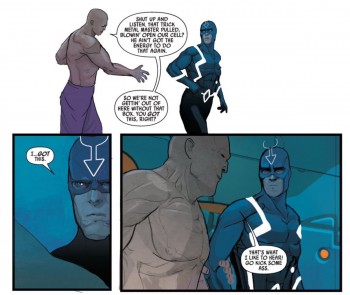 Secondly, the themes are strong. Black Bolt had intended to put his mad brother Maximus into this prison to keep the world safe, but Maximus beat him to the punch and popped him in here instead. And yet, it is not a normal prison.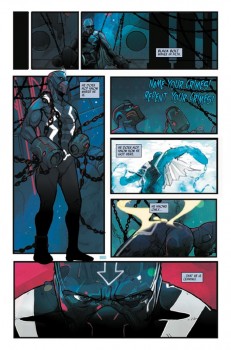 Prisoners are cruelly abused, and killed, and brought back so that they can continue to do penance at the hands of a mysterious jailer. And Absorbing Man, far from being a liability, is a powerful dramatic foil – he's been in prisons a lot, both fairly and perhaps some less so. Using both characters (and a few others, non of whom are cliché) Ahmed asks questions about prison, guilt, and sins. And he's doing it well.
Thirdly, Christian Ward on art is great. I don't normally comment much on the art when talking about comics because I recognize that my grasp of layout, composition, perspective, color and all sorts of other things are not my expertise.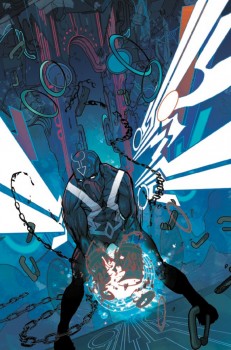 That being said, Ward's art is evocative, powerful with really unexpected layouts and he creates a brilliant high-tech alien prison that's just alien enough to be psychologically unsettling.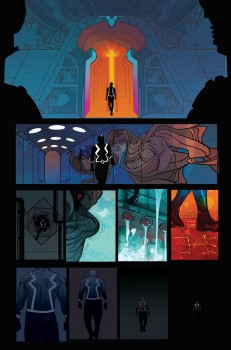 And it's fun after having read a few issues to start teasing out the themes. The jailer in the beginning is yelling "Name Your Crimes! Repent Your Crimes!" This could be pure jailer psychological manipulation, but Black Bolt has a lot of sins. Which one really got him here?
My guess is that it was his very plan to put his brother in here, without knowing what it really was. But I could be wrong. Black Bolt isn't king right now because of lots of crimes.
I've only read issues #1-4 so far, but I'm loving this book and will stick with it. I totally recommend it!
---
Derek Künsken writes science fiction and fantasy in Gatineau, Québec. He's finishing up a hard SF novel for his agent this weekend. It's a sequel to his 2014 Analog novelette "Persephone Descending" which concerned the new Québécois colonists living in the clouds of Venus. He tweets from @derekkunsken.