Super-Intelligent Cats, Shape-Shifting Aliens, and Mysterious Footprints in the Snow: Rich Horton on 9 Tales of Space and Time, edited by Raymond J. Healy
Super-Intelligent Cats, Shape-Shifting Aliens, and Mysterious Footprints in the Snow: Rich Horton on 9 Tales of Space and Time, edited by Raymond J. Healy
Earlier this week I wrote a brief Vintage Treasures piece about Raymond J. Healy's groundbreaking anthology New Tales of Space and Time. Groundbreaking because it virtually invented the original science fiction anthology, way back in 1951. I was inspired to write that article by Rich Horton's review of Healy's follow-up, 9 Tales of Space and Time, at his blog Strange at Ecbatan. Here's Rich.
Raymond J. Healy (1907-1997) is primarily remembered within the SF field for his role as co-editor (with J. Francis McComas, one of the founding editors of The Magazine of Fantasy and Science Fiction) of the absolutely seminal 1946 anthology Adventures in Time and Space, with was the first introduction in book form to short SF for many post-War readers. It was reprinted numerous times, including a Modern Library edition in 1957.

Healy edited three other SF anthologies, one more reprint book with McComas, the much shorter and less good More Adventures in Time and Space (1955); and two original anthologies on his own: New Tales of Space and Time (1951) and the book at hand, 9 Tales of Space and Time (1954)… Both books are very good, and both seem to have been quite significant at the time, but I don't think they are much remembered. The first book had two major stories, Kris Neville's "Bettyann" and Anthony Boucher's "The Quest for Saint Aquin," as well as contributions from the likes of Asimov and Bradbury. The second book has no story as good as those, but it is still quite interesting.
Like Rich, I consider Healy's first book, Adventures in Time and Space, to be enormously important, perhaps the most important SF anthology of the Twentieth Century.
[Click the images for bigger versions.]
One great thing about Adventures in Time and Space is that it's still highly readable today. And while the hardcover first edition is a tough find, the Modern Library 1957 reprint is considerably easier.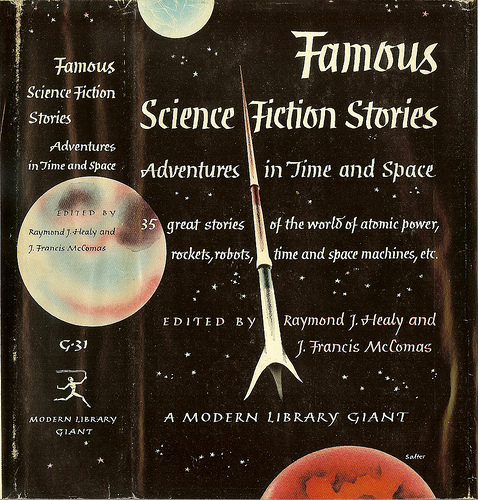 Here's a peek at the dust jacket. Note the complete catalog of Modern Library editions, cleverly hidden on the inside back cover.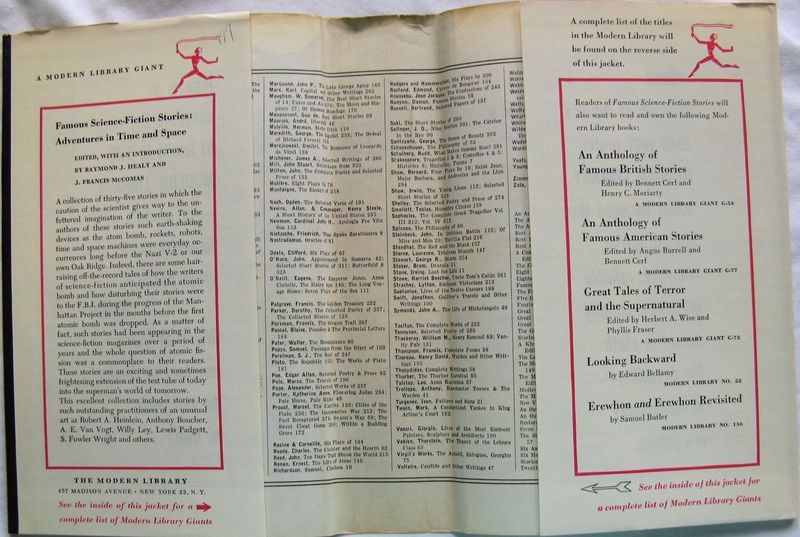 The book was kept in print for decades. Del Rey kept an unabridged single paperback edition in print for most of the 70s, and there was even a 90s reprint from the Science Fiction Book Club.
Note the blurbs on the back of the 1975 edition above, including Asimov saying "My whole life changed when that incredible volume was published," and Frederik Pohl crediting it as "The book that started the science-fiction publishing industry!"
Once Adventures in Time and Space proved their was a thriving and enduring market for science fiction, Healy innovated again with his two anthologies of original fiction. Here's the inside flap for 9 Tales of Time and Space.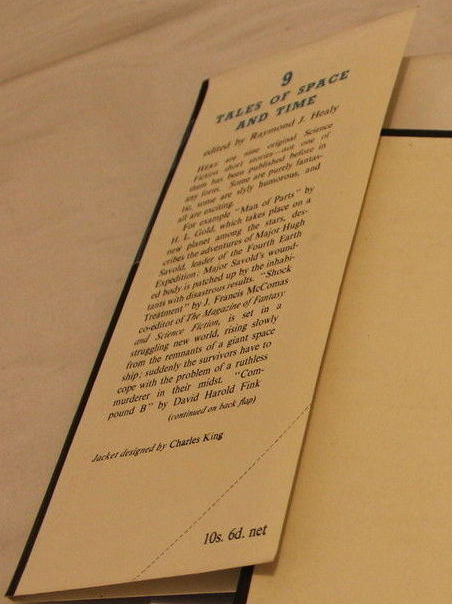 And here's the complete TOC (word counts by Rich).
"The Idealists," John W. Campbell, Jr. (14,000 words)
"Shock Treatment," J. Francis McComas (11,400 words)
"Genius of the Species," R. Bretnor (5,700 words)
"Overture," by Kris Neville (20,000 words)
"Compound B," David Harold Fink, M. D. (11,600 words)
"The Chicken or the Egghead," Frank Fenton (7,800 words)
"The Great Devon Mystery," Raymond J. Healy (8,400 words)
"Balaam," Anthony Boucher (5,200 words)
"Man of Parts," H. L. Gold (5,300 words)
Here's Rich on the Campbell story.
"The Idealists" is pure Campbell, a story that reads like something he would have pitched to one of his regulars at Astounding, H. Beam Piper, perhaps, or someone lesser like Everett Cole. An expedition of humans is exploring a planet where the intelligent race is at a medieval tech level, under the autocratic rule of Dukes, who forbid scientific experimentation. The humans have tried to teach some new tech to a clever local man, and the Duke has had him killed, so they try again with the Duke's rather volatile son. The Duke, backed into a corner, as the wisest of the human ship has warned, kills his son as well, and then comes to challenge the humans. At first we are led to feel sympathy for the humans, but it becomes clear that they are acting foolishly, as we are told (lectured) by the Campbell stand in. The ending is a bit dark, and there is a bit of a twist, as a superwise alien race turns out to be involved. It's not bad stuff, very didactic to be sure, but worth reading and making its point, if a bit thuddingly, fairly well.
| | |
| --- | --- |
| | |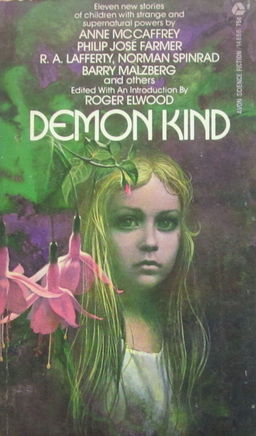 And on the Neville, a sequel to "Bettyann," which first appeared in New Tales of Space and Time, and was eventually collected as part of a fix-up novel of the same name from Tower in 1970 (see above).
Kris Neville… began publishing short fiction in 1949, and quickly made an impact, most notably with "Bettyann" (1951)… "Overture" is the direct sequel to "Bettyann". (The two stories were combined, presumably with additional material, into a novel in 1970, and another story, "Bettyann's Children," written with Lil Neville, appeared in 1973 [in the anthology Demon Kind, at right– JO].) (Obviously, spoilers for "Bettyann" follow.) The story opens with Bettyann, having left the ship in which her alien relatives were planning to take her away, using her shapechanging ability to fly back to her true home, in Southwest Missouri. She must now come to terms with her newly revealed alien abilities, and somehow explain to her parents why she suddenly left Smith College. She becomes obsessed with the idea of making a difference — perhaps by using her powers to heal people, and she also begins to fall for the much older local doctor. Not much else really happens — a couple of minor health crises for her, engendered by her expending energy on healing a man with cancer, and her despair when she fails, her young love for the older doctor (and its reciprocation), her relationship with her adoptive parents — but the story is very nicely told, sweet, well-written.
Read Rich's complete review here.
9 Tales of Space and Time was published by Henry Holt in May 1954. It was never reprinted in paperback, and there is no digital edition. The cover is by Fred L. Wolff.
See all our recent Vintage Treasures here.