Goth Chick News: Forget Virtual Reality, Let's Do This
Goth Chick News: Forget Virtual Reality, Let's Do This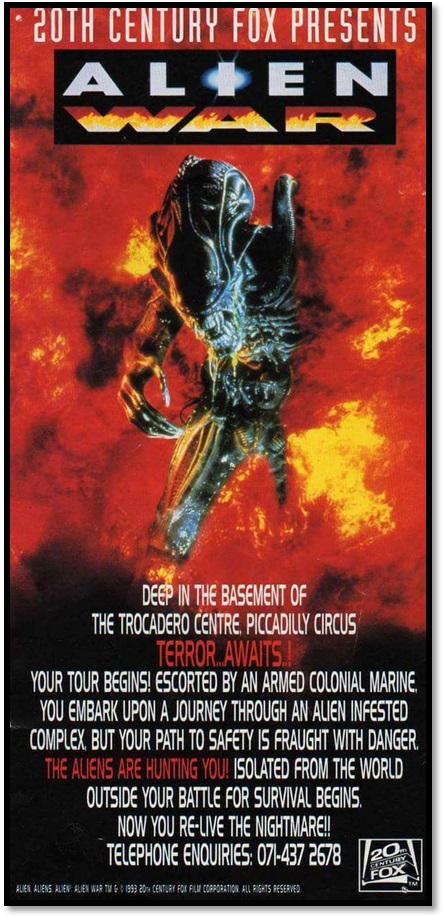 Some years ago while wandering around London in the evening, I had the very lucky pleasure of coming upon the grand opening of a new attraction called Alien War. Being an avid fan of the Alien franchise and having no idea what I was walking into, I allowed the realistically dressed interstellar marines manning the sidewalk outside, to convince me to check it out.
What I experienced for the next 20+ minutes would almost certainly require me to sign some sort of liability waver if it existed today; but it was such an unbelievable adrenaline rush that I queued up to do it twice more that night.
As I have nothing to compare it to in recent memory, I was happy to find several YouTube clips. Including the one below, which gives you an idea of what I'm talking about.
Way beyond "no-touch" haunted attractions and more in the realm of those events like Blackout which, by the way, do require you sign an extensive waiver.
In other words – awesome.
My only wish was that somebody would do something like this again. I mean, there are dozens of pop culture story lines to choose from but I can only guess that an attraction of this magnitude and detail would likely be a complete money-losing venture overall.
Saddies.
And then this week happened and we got news of two. TWO!
First, having seen success with their Universal Studios Horror Nights attraction, AMC partnered with Triotetch to bring Fear the Walking Dead Survival to Las Vegas where fans can immerse themselves in a zombie-themed, multisensory event inspired by the hit series.
"Reality"-seekers and zombie fanatics will enjoy this unique experience that combines a thrill ride, escape room, maze, and interactive gaming, all set against the horrors of a zombie apocalypse. The attraction, in the heart of Fremont Street Experience, is scheduled to open sometime this summer.

We're told the attraction will feature elaborate sets, all-encompassing audio and video, as well as high-tech motion simulator technology. Upon entering into the Fear the Walking Dead Survival experience, guests will find themselves in the setting of a temporary military facility set inside a junior college amidst growing rumors of a zombie outbreak. Visitors will need to utilize their survival skills and instincts to fight off the never-ending zombies to hopefully escape back into the real world.
It's hard to judge too much by this short preview, but from what's been explained and shown here, it does seem to share quite a lot of the elements of Alien War, though I doubt you're going to get man-handled, forced to run, crawl and climb, or ultimately get splattered with fake blood.
Check it:
Unfortunately, Alien War only lasted a little over a year giving me the chance to drag a few friends through it the following summer, but then it was gone. So I was particularly thrilled to read the announcement by 20th Century Fox that they are at it again, only this time partnering with Madame Tussauds. The new adventure, Alien: Escape! opens in London on Saturday.
According to the official web site:
The Alien: Escape experience follows the release of the critically acclaimed blockbuster film, Alien: Covenant. Created in collaboration with Twentieth Century Fox, step on board the Covenant spaceship as you're challenged to navigate a trail of blood, gore, chaos and danger. The mission is simple: Run. Survive. Escape.

Meet Michael Fassbender's first wax figure, in character as next generation Weyland-Yutani synthetic Walter, as you embark on your gruesome quest. He will check your vital signs before you board the ship.

The multi-sensory fright-fest takes the most infamous and petrifying creatures from the iconic Alien franchise, and places them in front of guests in all their heart-racing and bloodcurdling glory.

Are you brave enough to enter Alien: Escape?
Once again, we have a less-than-enlightening trailer, but there is an age restriction of 15 or older to enter the experience, so there must be some amount of trauma. On the other hand, it is Madam Tussards, which though slightly more graphic than things you'd see in the US, is still very "family friendly". It also wouldn't surprise me at all if someone recycled the elaborate sets from Alien War and repurposed them here being that both were / are London based and fronted by 20th Century.
Have a look for yourself:
I'm just ridiculously happy about this whole trend and hope we see more of it. I mean, a good haunted attraction is a lot of fun, but limited in by the "good" criteria and the fact we only get to enjoy them for a month every year.
And since John ("the Big Cheese") O seems to suddenly be easing up the expense report criteria, I see a significant road trip in my future.
Stay tuned.
Have a question or comment, or have you ever experienced anything like described? Post it here or drop a line to sue@blackgate.com.