Princesses, Space Battles, Monsters and Aliens: The Sirantha Jax Novels by Ann Aguirre
Princesses, Space Battles, Monsters and Aliens: The Sirantha Jax Novels by Ann Aguirre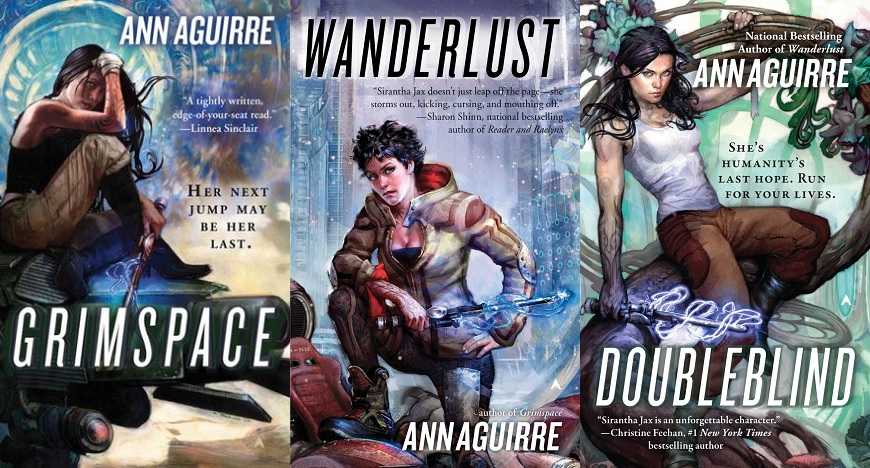 I love adventure science fiction, but I'm a little shy of all these open ended series. I want to fall in love with a series, sure… but do I want to fall for a publishing endeavor with an uncertain future, one that could easily be derailed by an author illness, a fickle market, publishing setbacks or other unexpected tragedy? Who needs that anxiety and potential heartache? Not me; I have three teenagers.
Which leaves me in a bit of a quandary, since most of the adventure SF I like tends to be part of series. But there are a few completed story arcs, out there — not many, but a few. Successful series that have wrapped up with a beginning, middle, and an end. And one of those is Ann Aquirre's 6-volume Sirantha Jax cycle, a far-ranging space opera in a well-realized universe that left fans happy with a satisfying concluding volume.
My friend Sharon Shinn was one of the first to alert me to these books, with her review of the opening volume Grimspace: "Sirantha Jax doesn't just leap off the page — she storms out, kicking, cursing, and mouthing off. No wonder her pilot falls in love with her; readers will too."
At my old stomping grounds SF Site, Michael M Jones had some kind words for the fifth volume, Aftermath.
Highly satisfying… Aftermath has all of the heart, soul, adventure and sense of wonder that you could ask for in a character-driven series.
But perhaps my favorite review was for volume #4, from BookLove.
A fabulous book… Fans of the big SF flicks out there, from Serenity to Star Wars, will find everything they love about those stories in this one. Princesses, spaceship battles, monsters, lasers, and aliens, Killbox has it all.
I'm also a fan of the covers, all rendered in gorgeous colors by Scott M. Fischer. Here's the complete series.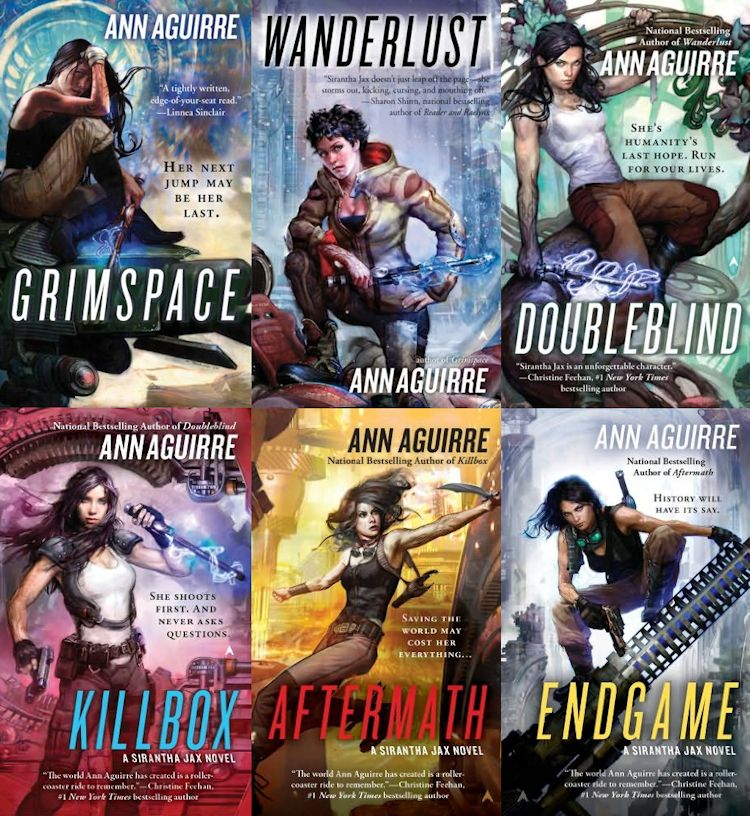 At her website, Aguirre describes these books as "romantic science fiction," and they obviously have a romantic component to them. Fine by me — I love a good SF romance — but even if you don't, that shouldn't scare you off. These books are highly regarded by SF fans of all stripes.
Here's the complete publishing details.
Grimspace (312 pages, February 26, 2008)
Wanderlust (312 pages, August 26, 2008)
Doubleblind (310 pages, September 29, 2009)
Killbox (368 pages, August 31, 2010)
Aftermath (320 pages, August 30, 2011)
Endgame (337 pages, August 28, 2012)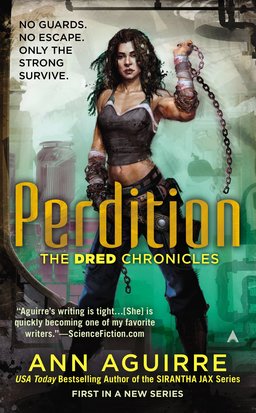 All six books were published by Ace as paperback originals; all six are still in print, priced at $7.99 – $8.99 in paperback and digital editions.
Ann Aguire is enormously prolific — between 2008 and 2013 she produced no less than 22 novels, including:
6 novels in the Sirantha Jax series
5 Corine Solomon urban fantasies (beginning with Blue Diablo and Hell Fire)
3 novels in the YA post-apocalyptic dystopian Razorland trilogy (Enclave, Outpost, Horde)
4 volumes in the paranormal romantic suspense Skin series, beginning with Skin Game (written as Ava Gray)
3 novels in the apocalyptic romance Dark Age Dawning (co-written with Carrie Lofty, under the name Ellen Connor)
Seriously, that's damned impressive. Her more recent titles include a dark SF trilogy set in the Jax universe, The Dred Chronicles (starting with Perdition), and the Apparatus Infernum series, written with her husband under the A.A. Aguirre.
Our previous coverage includes:
Bronze Gods, by A.A. Aguirre
Apparatus Infernum by A. A. Aguirre
See all our coverage of the best fantasy and SF series here.