Vintage Treasures: The Pulp Fantasies of E. Hoffmann Price
Vintage Treasures: The Pulp Fantasies of E. Hoffmann Price
E. Hoffmann Price is one of the grand old men of the pulps. He published no less than 28 stories in Weird Tales between 1925 and 1950, including a collaboration with H.P. Lovecraft, "Through the Gates of the Silver Key." He continued writing right up until his death in 1988, at the age of 89. He published four SF novels in his Operation series (Operation Misfit, Operation Longlife, etc) with Del Rey in his 80s, producing the last one in 1987.
But he's perhaps best remembered by modern readers for his pair of Chinese fantasies, The Devil Lives of Li Fong (1979) and The Jade Enchantress (1982), also published by Del Rey, with gorgeous covers by Rowena Morrill and Laurence Schwinger. These books were ubiquitous among adventure fantasy fans in the early 80s, passed around and shared like the tales of Elric and Fafhrd & the Gray Mouser.
The Devil Wives of Li Fong (217 pages, $1.95 in paperback, December 1979) — cover by Rowena Morrill
The Jade Enchantress (297 pages, $2.75 in paperback, June 1982) — cover by Laurence Schwinger
Originally from California, Price began his professional career as a soldier, graduating from West Point and serving in World War I. In his autobiography, Jack Williamson called him a "real live soldier of fortune." Here's his colorful bio from the back of these Del Rey paperbacks.
[Click the images for bigger versions.]
E. Hoffmann Price (1898-present) soldiered in the Philippines and France during World War I. At war's end he was appointed to the United States Military Academy, where he entered intercollegiate pistol and fencing competition. He was graduated in 1923 and commissioned in the Coast Artillery Corps. His first fiction sale was March 1924, to Droll Stories. By 1932, he was writing full time – -fantasy, adventure, westerns, detective. When the pulps folded, he earned grog, gasoline and groceries by holding two jobs and by filming weddings and practicing astrology in his spare time. Thanks to his incessant motoring, he met and made enduring friendships with Farnsworth Wright, Hugh Rankin, Otis Adelbert Kline, Lovecraft, Howard, W. K. Mashburn, Clark Ashton Smith, Edmond Hamilton, Seabury Quinn, Jack Williamson, Robert Spencer Carr, Leigh Brackett, C. L. Moore, and a comparable number in the non-fantasy fields.

During the past sixteen years, Price has been known in San Francisco's Chinatown as Tao Fa, the dharma name conferred by Venerable Yen Pei of Singapore, and he is mentioned in prayers every new moon and full moon in two Taoist-Buddhist temples. As a gourmet, he cooks shark fin soup, sautes beche-de-mer with black mushrooms, and steams "tea-smoked" duck. He declares that in addition to silk, gunpowder, and the magnetic compass, beautiful women were invented in China. Doubters are invited to meet him at dawn, on horse or afoot, with sword or pistol.
And here's a closer look at Rowena's cover for Devil Wives (click for bigger version).
Despite their initial popularity, these books have not aged well. Devil Wives has been out of print since 1979, and The Jade Enchantress suffered the same fate until Wildside Press rescued it from obscurity with an ebook edition in 2014. But copies are still easy enough to find, and they're not expensive. In fact, I found a copy of Devil Wives for sale for $2 in the Wiscon Dealer's Room last weekend, which is what prompted me to draft this article.
Here's the back covers for both books.
I didn't discover Price with these Del Rey editions. I first encountered him courtesy of Carcosa Press, and their gorgeous Far Lands Other Days, a massive 600-page collection that gathers much of his best pulp work.
David Drake, co-founder of Carcosa (with Karl Edward Wagner) shared his memories of Price with Andy Duncan back in 2015; read more about it here.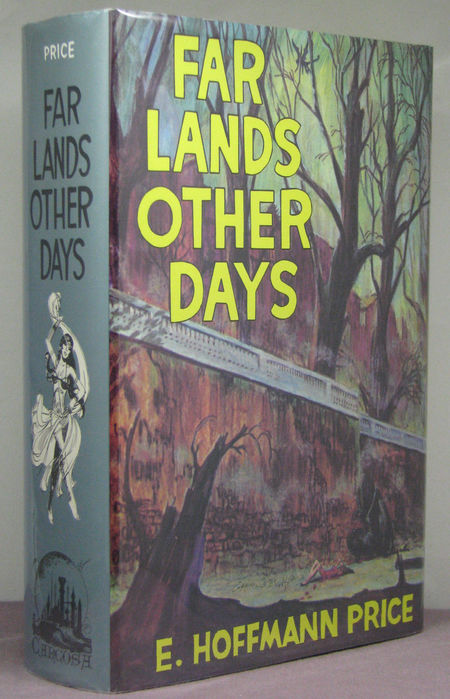 Like the other three Carcosa volumes, copies are scare today, and are highly collectible.
See all our recent Vintage Treasures here.