Vintage Treasures: The Ace Novels of D.G. Compton
Vintage Treasures: The Ace Novels of D.G. Compton

I don't know nearly as much about D.G. Compton as I thought I did.
Yeah, I have a few of his novels, mostly because I collect early Ace editions. Synthajoy, Chronocules, The Silent Multitude, and his 1970 Nebula nominee The Steel Crocodile, sure. I thought that was about it, until I recently stumbled on a few others.
Curious, I did a quick ISFDB search, and discovered D.G. Compton produced no less than 20 SF novels between 1965 and 1996. Holy cats! Not only am I missing the vast majority of his work, I don't even have half of his Ace novels. Just to rub salt into the wound, I found out he's also had successful careers as a crime writer (under the name Guy Compton) and a writer of Gothic romances (under the name Frances Lynch).
[Click the images for bigger versions.]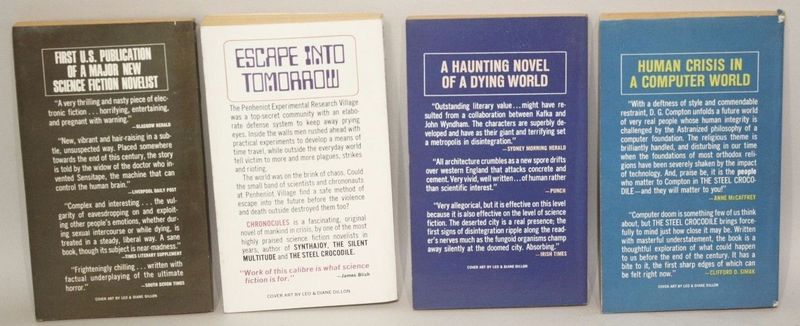 David Guy Compton was born in Britain in 1930. His first published book was the 1962 crime novel Too Many Murderers. He turned to science fiction in 1965 with The Quality of Mercy, reprinted in paperback by Ace in 1970. In 2007, he was made an Author Emeritus by the Science Fiction and Fantasy Writers of America. He is still alive, and his most recent puplication was the short story "In Which Avu Giddy Tries to Stop Dancing" (Starlight 3, 2001).
Compton's partnership with Ace was extremely fruitful, and he published his most memorable work with them. In fact, Ace published no less than ten of his novels in paperback over the course of a single decade, 1970-1980. Here's the complete list (with original publication dates), so you won't make the same mistake I did .
The Quality of Mercy (1965)
Farewell, Earth's Bliss (1966)
The Silent Multitude (1966)
Synthajoy (1968)
Chronocules (1970)
The Steel Crocodile (1970)
The Missionaries (1972)
A Usual Lunacy (1978)
Windows (1979)
Ascendancies (1980)
I know, I know — pics or it didn't happen. Here's a look at the rest of them.
In 1974 Compton published The Unsleeping Eye with DAW Books. It came in fifth in the Locus poll for Best SF Novel.  He published one sequel, Windows (1979), this one with Ace.
Compton wrote a series of SF-detective novels featuring Chief Inspector Alec Duncan, Justice City (1994) and Back of Town Blues (1996). Both were only available in the UK, and reprinted as ebooks as part of Orion's SF Gateway series in 2011.
See all of our recent Vintage Treasures here.