Future Treasures: Off Rock by Kieran Shea
Future Treasures: Off Rock by Kieran Shea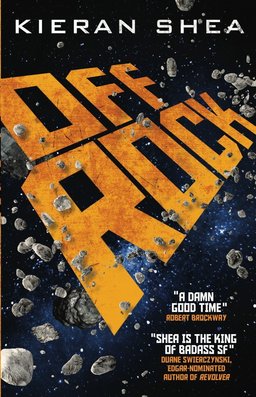 Kieran Shea is the author of Koko Takes a Holiday and its sequel, Koko the Mighty. His latest, Off Rock, is a fast-paced and funny tale of a bank heist set in space, which is not the kind of thing I come across very often. The B&N Sci-Fi & Fantasy Blog calls it "a fast-moving sci-fi heist with a hard-edged sense of humor and another motley crew of bad guys and not-so-good guys (and gals)." It's available in trade paperback from Titan Books next week.
In the year 2778, Jimmy Vik is feeling dissatisfied.

After busting his ass for assorted interstellar mining outfits for close to two decades, downsizing is in the wind, his ex-girlfriend/supervisor is climbing up his back, and daily Jimmy wonders if he's played his last good hand.

So when Jimmy stumbles upon a significant gold pocket during a routine procedure on Kardashev 7-A, he believes his luck may have changed — larcenously so. But smuggling the gold "off rock" won't be easy.

To do it, Jimmy will have to contend with a wily criminal partner, a gorgeous covert assassin, the suspicions of his ex, and the less than honorable intentions of an encroaching, rival mining company. As the clock ticks down, treachery and betrayal loom, the body count rises, and soon Jimmy has no idea who to trust.
Off Rock will be published by Titan Books on April 18, 2017. It is 240 pages, priced at $14.95 in trade paperback and $7.99 for the digital version. The cover was designed by Amazing 15. Read an excerpt from the first chapter at the B&N Sci-Fi & Fantasy Blog.
See all our recent coverage of the best in upcoming fantasy an SF here.