Another Magazine Gone: Fantastic Stories of the Imagination Packs it In
Another Magazine Gone: Fantastic Stories of the Imagination Packs it In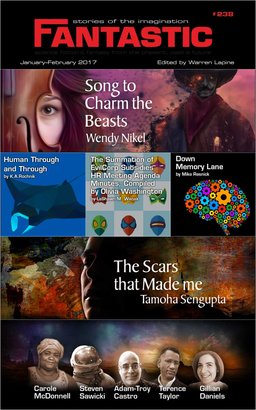 There's a healthy number of genre magazines on the market in 2017… but that doesn't mean that all (or even most) of them are healthy. The vast majority of independent and small press magazines operate on paper-thin margins, which means that even minor setbacks can put the whole enterprise at risk.
We lost one of the highest-paying short fiction markets in the industry last month, as publisher Warren Lapine announced on January 18th that a combination of financial difficulties and personal setbacks had conspired to doom Fantastic Stories of the Imagination. In his Message From the Publisher he writes:
It's with deep regret that I announce the closing of Fantastic Stories of the Imagination. The January issue will be our final regular issue and the People of Color Take Over issue will be our final issue. I'm really proud of the body of work that we produced at Fantastic. There are a number of reasons that now is the time for me to close the webzine. According to my projection, it'll take more than five years for Fantastic to become self sustaining, and I simply don't feel that that is a reasonable time frame.

I had planned to stick it out another year, but my personal life has made that much more difficult. Last month my daughter's house burned down and she and her family are staying with us while we try to sort everything out with an insurance company that doesn't want to pay; and this month my wife was diagnosed with breast cancer… For those of you who are owed portions of an electronic subscription. Your subscription will be filled with electronic copies of The Magazine of Fantasy and Science Fiction and The Cascadia Subduction Zone. That means you'll be getting two magazines for every one we owe you.
Fantastic Stories of the Imagination was founded in August 2014, and published 17 issues over the past two and a half years. It took its name from the fondly-remembered digest Fantastic Stories, published from 1952-1980 by Ziff-Davis, and continued the original's numbering scheme. The modern version was a free webzine that published two new stories every issue, plus reprints, reviews and commentary. It was edited by Warren Lapine and published by Wilder Publications, and available free online, and in a variety of digital formats for $2.99.
We last covered Fantastic Stories of the Imagination with the September-October 2015 issue. The final issue will be the Kickstarter-funded People Of Color Take Over Fantastic Stories, inspired by the hugely-successful People of Colo(u)r Destroy Science Fiction special issues of Lightspeed and Nightmare. The last regular issue contains new fiction by Wendy Nikel and Tamoha Sengupta; check it out here.