New Treasures: Lords of Dyscrasia by S.E. Lindberg
New Treasures: Lords of Dyscrasia by S.E. Lindberg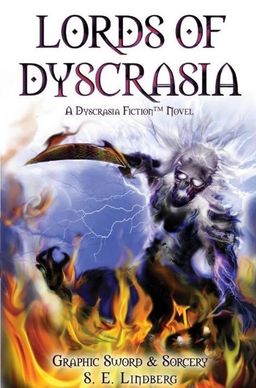 I met Seth Lindberg at the World Fantasy Convention back in October. He co-moderates the Goodreads Sword & Sorcery Group, one of the rare groups that pays a lot of attention to genre magazines, like Cirsova and Beneath Ceaseless Skies. He also maintains a fairly active (and excellent) blog — check out his recent reviews of Joe Bonadonna's Mad Shadows II, and Skelos issue #1.
He's also an acclaimed S&S author in his own right. Joe Bonadonna wrote a rave review of his first novel Lords of Dyscrasia here at Black Gate last year. Here's Joe.
Lords of Dyscrasia (an abnormal or disordered state of the body or of a bodily part) is touted as "Graphic Sword and Sorcery," but to me it has more in common with the dark fantasy of Clark Ashton Smith and the gothic tones of Mervyn Peake's first two Gormenghast books. There is some nice Lovecraftian shading to this novel, as well, with a touch of Edgar Allen Poe to lend it a feverishness of tone, and even a psychedelic flavor in style.

While Lindberg channels his influences with a deft hand, he has mapped out a beautifully grotesque world that is truly his own unique creation. This book was described to me as being part of the Grimdark subgenre of dark fantasy, and it is indeed a grim, dark tale….

This is a complex and well-written novel, very difficult to describe. The settings and the atmosphere are rich in color and texture, and story's pace is almost relentless: it rushes along like a bullet train, with very few stops along the way. Although Lysis Endeken is the main character, it is the weird and wonderful Doctor Grave who really rises above all others.
I bought a copy of this novel from Seth at the convention, and I'm glad I did. It's become the foundation of a popular new S&S series, and the second volume, Spawn of Dyscrasia, was published in 2014.
Here's the description for Lords of Dyscrasia, from the back of the book.
A blood disease plagues the insectan elders of the Underworld. Desperate to save them from extinction, the golem Doctor Grave infuses the soul of his dying Queen into the blood of a human artisan, Lord Ante Lysis. Her soul passes through Ante's blood into his offspring, thus the Lysis bloodline carries the diseased Queen's soul until the Doctor can execute a grand necromantic rite to resurrect her.

Endenken Lysis of Gravenstyne, last lord of his Clan, journeys to the Underworld Forge to extinguish the elder plague consuming his soul. Accompanied by the ghosts of the family whom he failed and the brothers whom he murdered, Endenken must battle his past and the Doctor's minions to end the plague, quench the Queen's soul.
In addition to all his other talents as an author, moderator and reviewer, Seth is also a talented artist. He did the cover to Lords of Dyscrasia, and it looks like he created the cover for the sequel too,
Lords of Dyscrasia was published by GNIS Publishing on July 7, 2011. It is 258 pages, priced at $15.96 in trade paperback and $2.99 for the digital version. The cover is by S.E. Lindberg.
See all of our recent New Treasures here.