Future Treasures: Martians Abroad by Carrie Vaughn
Future Treasures: Martians Abroad by Carrie Vaughn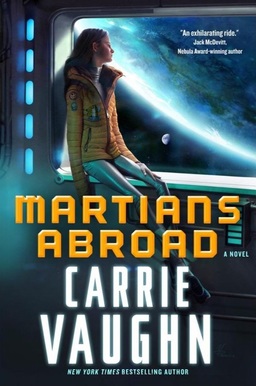 At the World Science Fiction convention in Kansas City back in August, I had a delightful dinner with Carrie Vaughn and attended her reading. She read from her upcoming novel Martians Abroad, the tale of a young girl visiting Earth for the first time who becomes caught up in interplanetary intrigue.
I make it a point to attend as many readings as I can at conventions, and Worldcon was no exception. I lost count of how many fine readings I sat through, and most of them I've forgotten already. But Carrie's book has stayed with me. It was without question the best reading of the convention, and Martians Abroad is the novel I'm most looking forward to in 2017.
Polly Newton has one single-minded dream, to be a starship pilot and travel the galaxy. Her mother, the Director of the Mars Colony, derails Polly's plans when she sends Polly and her genius twin brother, Charles, to Galileo Academy on Earth.

Homesick and cut off from her plans for her future, Polly cannot seem to fit into life on Earth. Strange, unexplained, dangerous coincidences centered on their high-profile classmates begin piling up. Charles may be right ― there's more going on than would appear, and the stakes are high. With the help of Charles, Polly is determined to find the truth, no matter the cost.
Carrie Vaughn is best known for her bestselling Kitty Norville series, but she's also the author of the superhero novels After the Golden Age and Dreams of the Golden Age, fantasy novel Discord's Apple, and the collection Amaryllis and Other Stories. Her post-apocalyptic murder mystery Bannerless is coming in July from John Joseph Adams Books. This is her science fiction debut.
Martians Abroad will be published by Tor Books on January 17, 2017. It is 288 pages, priced at $24.99 in hardcover and $11.99 in digital formats. Read the first chapter at Tor.com.