December 2016 Asimov's Science Fiction Now on Sale
December 2016 Asimov's Science Fiction Now on Sale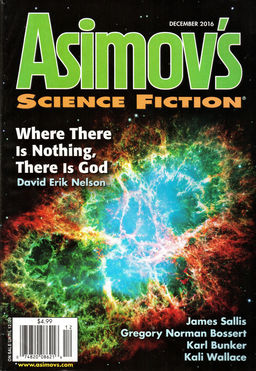 The December 2016 Asimov's Science Fiction is something of a landmark, in that it's the last monthly issue of Asimov's — a magazine that has been publishing continually for 39 years. It's as close as we come to an institution in this field, and while change is sometimes scary, in this case I think it's a good thing. Like its sister publication Analog, the magazine is moving to a bimonthly schedule. I always enjoy the big double issues, and getting six of them a year for each magazine is something to look forward to.
The last monthly issue has stories by Karl Bunker, Gay Partington Terry, Gregory Norman Bossert, James Sallis, Kali Wallace, and David Erik Nelson. Here's Sheila's full description:
Our blockbuster December 2016 novella, "Where There Is Nothing, There Is God" by David Erik Nelson, is a rollicking Time Portal tale. It's filled with a cast of unsavory characters who operate as though Cotton Mather's favorite TV show was Breaking Bad. In this vastly entertaining story, it's hard to know whom to root for so just make sure your inertia dampening system is on and enjoy the ride!

Once you decompress from Colonial Massachusetts, be prepared for a sharp shift to Gregory Norman Bossert's wild depiction of "HigherWorks" in a future London; an eerie discovery "On the Cold Side of the Island" has long-term effects on the lives of three teens in a new tale by Kali Wallace; James Sallis escorts us to another island where we learn "How the Damned Live On"; new to Asimov's author Gay Partington Terry's magical tale explains the significance of "Empty Shoes by the Lake"; and in Karl Bunker's "They All Have One Breath" artists who want to create interesting work must strive against the banality of a "perfect" society controlled by artificial intelligence.

Robert Silverberg's Reflections column examines what it means to be as "Dead as a Dodo" in this modern age; Peter Heck's On Books reviews new works by Lois McMaster Bujold, Charles Stross, Tim Powers, Indra Das, Lavie Tidhar, and others; plus we'll have an array of poetry and other features you're sure to enjoy.
The cover art is by NASA. The guest editorial is by Sarah Pinsker.
Over at Tangent Online, Jason McGregor provides a more detailed than usual review. Here he is on the cover novella, "Where There Is Nothing, There Is God" by David Erik Nelson:
In a future in which time travel is a normal FDA-approved thing (but is oddly underutilized, generally), a waiter/actor (primarily voice) is sucked into a mob caper involving that actor pretending to be a priest and bringing a physical sacrament to the people of Massachusetts in 1770 (which is to say, of course, getting them hooked on crystal meth) in exchange for items made by Paul Revere, which have quite a market among some shady characters of the story's present. The story primarily hinges on the main character's motivations and intermittent efforts to escape the bind he's gotten himself into.

I've read a million time travel stories… and even read a million variations on time travel stories that try to be "different," but I don't think I've ever read any that are different in quite this way.
And on "The Cold Side of the Island" by Kali Wallace.
Lacie grew up on a Maine island and returns there due to the death of and funeral for her friend Jesse, but she's late, misses it, and feels very guilty. She stays with her aging mother. She has brought her share of an item with her and meets up with Thea, an old friend she's had no contact with for years who has another share of the item. They go to the dead friend's house to get his final share of the item to return it all where they found it, as Thea had suggested doing years ago, whenever one of them eventually died.

Doesn't sound much like SF/F, right? Well, the "item" is a skeleton of an unidentified dying object they found in the woodsy half of the island when they were kids…. It has horns and claws but they're pretty sure it's not a demon—not sure it's an alien, either.
Read Jason's complete review here.
Here's the complete Table of Contents.
NOVELLA
"Where There Is Nothing, There Is God," David Erik Nelson
NOVELETTES
"They Have All One Breath," Karl Bunker
"Empty Shoes by the Lake," Gay Partington Terry
"HigherWorks," Gregory Norman Bossert
SHORT STORIES
"How the Damned Live On," James Sallis
"The Cold Side of the Island," Kali Wallace
POETRY
Million-Year Elegies: Archaeopteryx, Ada Hoffmann
Relativistic Dickinson, John Richard Trtek
DEPARTMENTS
Guest Editorial: That's Far Out, So You Read it Too? Sarah Pinsker
Reflections: Dead As a Dodo, Robert Silverberg
Next Issue
On Books, Peter Heck
The SF Conventional Calendar, Erwin S. Straus
See the current issue, with story excerpts and links to free online content, here.
The December issue went on sale November 15. It will be officially on sale until December 20, but you can usually find it after that.
Asimov's Science Fiction is edited by Sheila Williams and published by Dell Magazines. The cover price is $4.99 for 112 pages; a one-year subscription is $34.97 (US) or $49.97 (International). It is also available in a variety of digital formats.
We last covered Asimov's SF with the October/November 2016 issue.
Our Late November Fantasy Magazine Rack is here. See all of our recent fantasy magazine coverage here.