October/November 2016 Asimov's Science Fiction Now on Sale
October/November 2016 Asimov's Science Fiction Now on Sale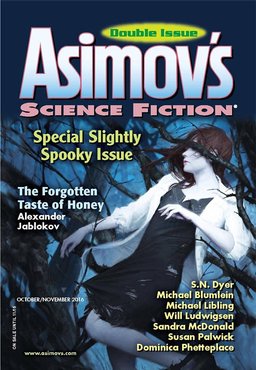 The October/November double issue of Asimov's Science Fiction is the annual "Slightly Spooky" Halloween special, "jam-packed with stories about ghosts, angels, demons, souls, curses, and a couple of aliens." Here's Sheila's full description:
October/November is our traditional "slightly spooky" issue, and the 2016 edition is no exception. The magazine is jam-packed with stories about ghosts, angels, demons, souls, curses, and a couple of aliens. Alexander Jablokov's bold new novella brings us a tale of death and danger, a woman with a rather unusual occupation, and "The Forgotten Taste of Honey."

Sandra McDonald's cheerful tone belies the horror that lurks for "The People in the Building"; the souls of the damned are captured in Susan Palwick's poignant "Lucite"; death and another odd job play a part in Michael Libling's amusing and irreverent tale of "Wretched the Romantic"; "Project Extropy" uncovers new mysteries in Dominica Phetteplace's ongoing series; S. N. Dyer draws on history and folklore to explain what happens "When Grandfather Returns"; seeds of hurt and mistrust are sewn in Rich Larson's "Water Scorpions"; new author Octavia Cade invites us to spend some time "Eating Science With Ghosts"; Will Ludwigsen examines the curse of "The Leaning Lincoln"; and Michael Blumlein'sheartfelt novella asks us to "Choose Poison, Choose Life."

Robert Silverberg's Reflections column dabbles in some "Magical Thinking"; James Patrick Kelly's On the Net prepares to "Welcome Our Robot Overlords!"; Norman Spinrad's On Books takes on "Short Stories" in a column that features the Nebula Awards Showcase anthologies as well as The Fredric Brown Megapack and Harlan Ellison'sCan & Can'tankerous; plus we'll have an array of poetry and other features you're sure to enjoy.
The cover is fabulous, but I couldn't find any info anywhere on the website on who painted it. It's by Karla Ortiz (karlaortizart.com/illustration).
In her editorial, Sheila Williams talks about the annual tradition of the "slightly spooky" issue, saying that she saves the best creepy stories each year for Halloween. She also talks about some of her favorites over the years.
Welcome to our annual slightly spooky issue. The fall double issue is always long in the making. Throughout the year, we see stories that land a little outside Asimov's, admittedly rather soft, parameters. While we do publish one or two stories in each issue that could be called fantasy, surreal fiction, or slipstream, our focus is primarily on science fiction. Of course I get a lot of traditional science fiction story submissions, but I see a lot of uncanny submissions, too. The average issue of Asimov's rarely features ghosts, witches, or werewolves, so during the year I tend to set aside many of my favorite outré tales while I wait to lay out the October/November issue.

We haven't seen as many vampire stories lately, but ghosts and werewolves continue to put in strong appearances. Authors tell me they set their sights on a spot in the special spooky issue, which means that I end up with a lot of fine material to choose from. The issue gives me an opportunity to broaden the definition of what constitutes an "Asimov's" story. It's hard to imagine publishing a tale concerning a troll in this magazine, but that's exactly what happened when Eleanor Arnason's Icelandic story about "My Husband Steinn" showed up in 2011. I was glad to have the chacnce (sic) to share that delightful tale with Asimov's readers…

Stories in the October/November issue can be disturbing and frightening. They can also be charming and humorous. We call it the "slightly spooky" issue because while some stories can be terrifying, it's not a special "horror" issue. SF will always be well represented — though some of those stories may be among the scariest. We aren't going to compete with The Walking Dead, but as long as it's fiction, it's fun to be a little bit fearful.
Here's the complete Table of Contents.
NOVELLAS
"The Forgotten Taste of Honey," Alexander Jablokov
"Choose Poison, Choose Life," Michael Blumlein
NOVELETTES
"Eating Science with Ghosts," Octavia Cade
"Wretched the Romantic," Michael Libling
"The Leaning Lincoln," Will Ludwigsen
"Project Extropy," Dominica Phetteplace
SHORT STORIES
"The People in the Building," Sandra McDonald
"Water Scorpions," Rich Larson
"Lucite," Susan Palwick
"When Grandfather Returns," S. N. Dyer
POETRY
After, Herb Kauderer
Incommensurable, Eliot Fintushel
The Ambassador's Daughter, Megan Arkenberg
All Saints Day, Lisa Bellamy
The Scientist's Paramour, Lucy A. Snyder
Tomorrow's Ghosts, Sarah Gittens
Old Women of the Wood, Jane Yolen
DEPARTMENTS
Editorial: Our Slightly Spooky Issue, Sheila Williams
Reflections: Magical Thinking, Robert Silverberg
On the Net: Welcome Our Robot Overlords!, James Patrick Kelly
Next Issue
On Books, Norman Spinrad
The SF Conventional Calendar, Erwin S. Strauss
See the current issue, with story excerpts and links to free online content, here.
The October/November issue went on sale October 11. It will be on sale until November 15.
Asimov's Science Fiction is edited by Sheila Williams and published by Dell Magazines. The cover price is $7.99 for 192 pages; a one-year subscription is $34.97 (US) or $49.97 (International). It is also available in a variety of digital formats.
We last covered Asimov's SF with the September 2016 issue.
Our October Fantasy Magazine Rack is here. See all of our recent fantasy magazine coverage here.