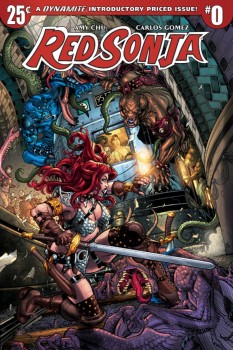 Red Sonja first appeared in the pages of Conan the Barbarian back in the 1970s. Her distinct red hair, iconic chain mail bikini, and total indifference to absurdity quickly made her a fan-favorite. She next appeared in a string of solo adventures for Marvel Feature before getting promoted to her own series. Unfortunately, stories about a woman in a bikini fighting psychedelic monsters just became too silly and sexist as the She-Devil with a Sword made her way into the 1980s. A few years back, some hack wrote a bunch of articles for Black Gate about the glory days of Red Sonja, lamenting that she would never again be as crazy or as fun as she was in her 70s heyday.
Never say never.
Amy Chu and Carlos Gomez are heading up a new Red Sonja series in 2017 and, as a sort of pre-holiday treat, they're offering a sixteen-page intro story at the super-low price of 25 damned cents. That's cheaper than a lot of the original Red Sonja issues ran and I'm pretty sure they're losing money due to printing costs alone. But they're hoping that potential new readers will risk a quarter on a story that motivates them to stick around for the regular series. Will this gambit pay off? Time will tell.
The issue starts off with a splash page of Red Sonja running up a crumbling stairway, sword drawn in either hand, threatening a Godzilla-sized demon. It's a badass introduction to our heroine. Or it would be, except for the fact that our first view of the She-Devil with a Sword is an upskirt shot. And Sonja's not wearing panties. And that's why I won't be including panel shots with this review.
Pages two and three get better, with a nice back-and-forth fight scene between Red Sonja and a green-blooded hentai demon. And if you don't know what a hentai demon is, let's just say that you'll want to wear at least two pairs of underwear before facing one. One further shot of Sonja's bare behind in these two pages (why, yes, I will be keeping count). And the bottom of page three has a small yet ominous "WHUMPA WHUMPA" sound effect.
Page four has a strange shift in perspective that suggests that the demon has suddenly lost interest in Red Sonja and is now focused on breathing fire on a bare patch of ground. No idea what's happened here, but it appears that something has pulled Sonja out of harm's way. The "WHUMPA WHUMPA" is getting louder. And we've got some ominous white text in a black word balloon that lets us know that someone evil and magical is talking.
On page five, we see a near-total splash page of Kulan Gath, the evil wizard who is Red Sonja's archenemy because Chris Claremont said so. He's firing a bolt of generic evil magic lightning at Sonja (and that's been a cliche since the Emperor did it in Return of Jedi).
But for me the really weird takeaway is Sonja saying, "We end this horror show now." Were there horror shows in the Hyborian Age? Did people gather in theaters on Saturday nights to watch some Bronze Age version of Elvira host cheesy horror plays?
It doesn't matter, because on page six, Sonja wakes up in a cave, covered in dust, complaining that her head is "throbbing like a Stygian hangover." Which is kind of like me waking up Sunday morning with an "American hangover." Are Stygians even known for their drinking? She wonders if she's been asleep, which would imply that she's been down in that cave for years (a similar setup to episode one of the Sleepy Hollow series … or the end of Army of Darkness). After giving her sword a friendly kiss, she uses it to prop herself up. Meanwhile, the "WHUMPA WHUMPA" is getting much louder and a wall of the cave crashes in on page seven.
Page eight is a full splash page of Red Sonja standing in the rubble, surrounded by bright lights.
Page nine has some nice imagery as we get Red Sonja's blurry-eyed perspective. She's half-blinded by the bright lights in the otherwise dark cave, trying to make out shadowy cyclops beasts with glowing eyes who speak in a strange language and are surrounded by strange devices. We can see that they're maintenance workers, but Sonja only sees monsters and runs towards them, sword raised.
Page ten is Red Sonja leaping into battle against a bunch of maintenance workers, who assume she's crazy and run away. Also, we get bare butt shot number three.
Page eleven finds Sonja leaving the construction site to find what we recognize as a subway tunnel. But all she can figure out is that the rails on the ground are man-made. She tries to test their resilience with her sword before pressing her head to them because they seem to be rumbling. That's right. The greatest threat that Red Sonja faces in this issue is the dreaded third rail. But before she can electrocute herself, she's startled by a roar.
Page twelve is yet another splash page, this time of a commuter train hitting Red Sonja. Yep. That train does not stop and totally knocks her to the side of the track on page thirteen. Yet she doesn't have a scratch on her after it passes. Not that I'm asking for strict realism in this thing, but that really does stretch even swords & sorcery credibility.
There's another strange transition on page fourteen, as Red Sonja has apparently been walking for a while and now finds herself in some access tunnel that's covered in ice. Like, a lot of ice, with stalactites hanging off the ceiling pipes and everything. She's relieved to find a rat ("Finally a beast I recognize) and asks it where she is. And given everything we've seen of Sonja in past stories, she would not be at all surprised if the rat answered, but instead it just follows her as she heads through the tunnel.
On page fifteen, she bids the rat farewell as she climbs up an access ladder to an opening in the ceiling. We get two shots of her climbing the ladder. One shot is from the top staring down at her, ah, "distractions." The other is from the floor, giving us yet another upskirt shot.
Page sixteen is the end of the issue and not much of a surprise as Sonja emerges from the access tunnel to find herself in downtown New York, surrounded by police officers pointing guns at her. "By Mitra!" indeed.
So, is it any good?
Despite being sixteen pages, this is very much a "teaser" story, meant to generate interest in the upcoming series. The artwork has more cleavage-focused and upskirt angles than some readers will feel comfortable looking at. And I would have preferred seeing Sonja have more cuts and bruises after fighting a demon and a commuter train. But overall, it gets across the wacky action tone that Amy Chu and Carlos Gomez are going for. At least, I hope they're going for a lighter tone, because if this was supposed to be a serious story… wow, they really messed up.
Short version, if you want to see a serious fantasy heroine, check out some of Dynamite Entertainment's other Red Sonja volumes (Gail Simone's take is especially good). If you want to read stories about a crazy woman with no pants fighting demons, wizards, and public transportation, grab a quarter and head down to your nearest comic shop. Or just go to Dynamite Entertainment's page to order it directly.
Welcome back, Red Sonja. I missed you.
---
Michael Penkas has been spending his time post-Black Gate working on all sorts of strange projects. His S&M mystery novel, Mistress Bunny and the Cancelled Client, is available in print and ebook editions. A full list of his previous Red Sonja reviews can be found here. He's lived in Chicago since 2004 and would like to mention that this is not the first time he's seen a crazy woman with no pants start a fight on a commuter train.