A Secret Conflict During the Civil War: The House Divided Series by Sean McLachlan
A Secret Conflict During the Civil War: The House Divided Series by Sean McLachlan
Sean McLachlan, our Wednesday afternoon blogger, is primarily known around our offices as the guy with the enviable travel budget. His recent travelogues have taken him to Roman ruins in Spain, Wallingord Castle in England, a volcanic island in the Canary Islands, the National Archaeological Museum in Madrid, a writing retreat in Tangier, Morocco, and even more exotic places.
But Sean is also a prolific author. A former archaeologist, he is now a full-time writer who specializes in history, travel, and fiction. He won the 2013 Society of American Travel Writers Award for his Iraq reportage, and his historical fantasy novella "The Quintessence of Absence" appeared in Black Gate. He currently has several series on the go, including Toxic World, a post-apocalyptic science fiction adventure, and the Trench Raiders action series set in World War One. And his contemporary thriller, The Last Hotel Room, will be released later this month.
But my current favorite is his Civil War horror series House Divided, which so far consists of two novels: A Fine Likeness and The River of Desperation. Here's what Sean told me when I asked him about the origin of the series.
These books were inspired by historical research I did while living in Columbia, Missouri, where some of the action takes place. Bloody Bill Anderson, General Price's invasion, and many other details are taken from history, including Frank and Jesse James' involvement in the fighting. The State Historical Society of Missouri was a great resource for me and I got to read a lot of period newspapers and diaries, meaning that even some of the dialog is real. The main characters are, of course, fictitious. It was a lot of fun weaving them into a tight historical narrative. Luckily Bloody Bill's gang disappeared for a couple of days just when I needed them to do something fictitious! The final in the trilogy will come out in 2017.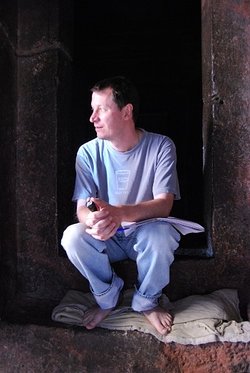 Here's the description for A Fine Likeness.
A Confederate guerrilla and a Union captain discover there's something more dangerous in the woods than each other.

Jimmy Rawlins is a teenaged bushwhacker who leads his friends on ambushes of Union patrols. They join infamous guerrilla leader Bloody Bill Anderson on a raid through Missouri, but Jimmy questions his commitment to the Cause when he discovers this madman plans to sacrifice a Union prisoner in a hellish ritual to raise the Confederate dead.

Richard Addison is an aging captain of a lackluster Union militia. Depressed over his son's death in battle, a glimpse of Jimmy changes his life. Jimmy and his son look so much alike that Addison becomes obsessed with saving him from Bloody Bill. Captain Addison must wreck his reputation to win this war within a war, while Jimmy must decide whether to betray the Confederacy to stop the evil arising in the woods of Missouri.
And The River of Desperation.
In the waning days of the Civil War, a secret conflict still rages. . .

Lieutenant Allen Addison of the USS Essex is looking forward to the South's defeat so he can build the life he's always wanted. Love and a promising business await him in St. Louis, but he is swept up in a primeval war between the forces of Order and Chaos, a struggle he doesn't understand and can barely believe in. Soon he is fighting to keep a grip on his sanity as he tries to save St. Louis from destruction.

The long-awaited sequel to A Fine Likeness continues the story of two opposing forces that threaten to tear the world apart.
Sean hasn't announced the title of the third volume. But the first two are available online through Amazon.com.
A Fine Likeness (311 pages, $12.99 in trade paperback, $2.99 in digital format, November 12, 2013)
The River of Desperation (342 pages pages, digital format only, $5.99, April 16, 2015)
See all of our recent coverage of fiction written by contributors to Black Gate here.