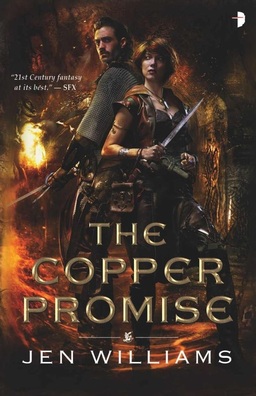 Adrian Tchaikovsky's Spiderlight, published last month by Tor.com Publishing, is fast becoming one of the most talk-about books of the fall. What begins as a familiar tale of a small band of adventurers on an epic quest to defeat the Dark Lord quickly becomes something else entirely. The Barnes & Noble Sci-Fi and Fantasy Blog calls it "A master class in subverting our expectations to surprise, engage, and deliver a fantastic story," And Django Wexler says, "If, like me, you're a D&D fan who always wondered about the ethics of Detect Evil or what the orcs eat in Mordor, you will love this one."
Tchaikovsky sounds like someone who's fond of old-fashioned heroic fantasy — in particular, the trope of the Adventuring Party — and also someone who isn't afraid of messing with the genre. So I was particularly interested in his August article at Tor.com "Five Books Featuring Adventuring Parties," which begins:
My new book, Spiderlight, is something of a deconstruction of the fantasy adventuring party, as seen in plenty of post-Tolkien works, and as beloved of Dungeons & Dragons players everywhere. It's not as common as you'd think in fiction — often the action is a single individual or a hero-and-sidekick pair, or something larger, like a military company. What I'm after here is an ensemble cast with a particular feel to it — that mix of clashing characters and different skillsets. Here are some of my favorites.
Yeah, that sounds good to me. One of his choices is a book that completely slipped past me: The Copper Promise by Jen Williams, published in July by Angry Robot.
When there's a wizard and a warrior but the rogue gets a chance to shine.

Jen is one of the best new voices in UK fantasy, and it's a testament to her writing skill that Wydrin, the "Copper Cat" and a proper fantasy rogue through and through, does not actually eclipse her companions Frith and Sebastian as they fight, trick and run their way through a world that has gone from run-of-the-mill dangerous to actively-being-set-on-fire-by-a-dragon dangerous thanks, chiefly, to their own poor life choices. "Let sleeping gods lie," goes the tagline. No need to tell you how that one works out.
We previously discussed Adrian Tchaikovsky's novels The Tiger and the Wolf and Guns of the Dawn. Learn more about his Tor.com novella Spiderlight here.
Read Tchaikovsky's complete article at Tor.com here.