B&N Points You to the Best Science Fiction & Fantasy in August
B&N Points You to the Best Science Fiction & Fantasy in August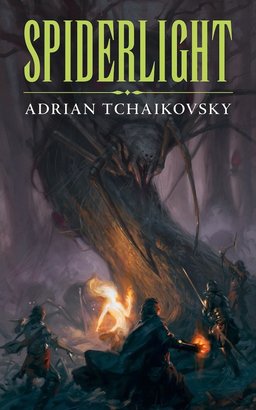 Over at the Barnes & Noble Sci-Fi & Fantasy Blog, Jeff Somers has announced his picks for the most intriguing SF and fantasy books of the month, and it's a terrific list.
It includes several books we've already showcased here at Black Gate — including The Indranan War by K.B. Wagers, The Forgetting Moon, by Brian Lee Durfee, and Ghost Talkers, by Mary Robinette Kowal — plus new books from Beth Cato, N.K. Jemisin, China Miéville, Faith Hunter, and many more.
He also recommends the latest book from Adrian Tchaikovsky, Spiderlight, on sale today from Tor.com Publishing.
Best-known for his remarkable, innovative, and expansive 10-book Shadows of the Apt series, which crafted an epic fantasy landscape modeled on the real-world characteristics of various types of insects, Tchaikovsky delivers this smart, standalone fantasy, which jumps off from what could be viewed as a clichéd and overdone premise: a standard-issue role-playing party (thief, ranger, wizard, cleric, etc.) following the complicated strictures of a prophecy in order to defeat a dark lord — a prophecy that involves stealing a fang from the Spider Queen and forcing her to lead them to his lair. But Tchaikovsky then pivots to introduce the true protagonist: a spider with an unpronounceable name who is transformed into human form to be the party's guide. From there, the author brilliantly subverts, inverts, and toys with the common tropes of fantasy literature. The end result is one of the most unique and interesting new fantasies of the year.
See the complete list here.