Summer Short Story Roundup: Part Two
Summer Short Story Roundup: Part Two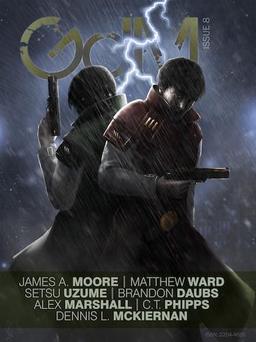 It turns out there were lots and lots of really good horror and science fiction short stories published this summer. Not as much swords & sorcery as I would have liked, but a bunch of good stories nonetheless. This week I'm going to give you a glance at roundup regular, Grimdark Magazine. I'm also going to take a look at two mags new to the roundup: the recently revived Weirdbook (read about the relaunch here), and newcomer Red Sun Magazine. You can read last week's reviews of Heroic Fantasy Quarterly, Swords and Sorcery Magazine, and Cirsova at this link.
Right from the gitgo, I knew Grimdark Magazine #8 was going to be a "disappointment." In the foreword, Editor Adrian Collins wrote "Issue #8 has a focus on sci-fi fiction, something I feel has been a bit lacking from GdM over the first two years (can you believe it's been two years?)." It's not like I hate sci-fi (though I find myself reading practically none at all anymore), it's just that after last week's thunderous blast of adrenaline-pumping, sword-swinging, monster-killing action, that's what I was hoping for more of.
In its short life, Collins has made GdM a consistently exciting publication, and GdM #8's two sci-fi stories are not bad at all. The first, "Viva Longevicus" by Brandon Daubs, is about genetically engineered pets going very, very wrong. It's told by a colonel in the U.S.S. AeroCorps sent to investigate an infestation on a colonial world. A monster hunt on an alien world just isn't the most original plot, but if it's told with verve and intensity (and just the right amount of crazy), it can be a blast to happily while away a few minutes on. This is one of those.
"Burying the Coin" by Setsu Uzumé is about a sky-pirate's sidekick getting her own ship at her boss' expense. Nothing extraordinary but well done, decent tension, some real depth of characters, and an ending with real weight.
So as not to abandon S&S entirely, the issue also has the terrific "A Proper War" by James A. Moore. It's narrated by the seemingly least miserable member of a bandit gang. The story opens up with the raiders confronting a single warrior and demanding — undaunted by his great size, strange features, and the arsenal hanging at his sides — he turn over all his valuables. When he tells them, "I am blessed. I am offered combat and a chance at a proper battle," they prepare to attack. Things go bad for them right away. Then they go worse. Later, for the narrator, even worse. Moore writes directly, and in the colors of blood and bruises.
GdM #8 is also stuffed with plenty of articles. Among them are a contemplation of the first three Alien films as grimdark. There's also a good interview with Tolkien-clone author supreme, Dennis L. McKiernan. Several other reviews (a game, a series), and another interview round out a nice, solid issue.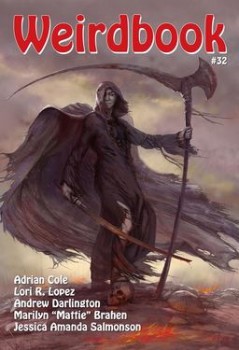 So, seeing how I was off to a weak start this week, I hoped things would look up with Weirdbook #32. The original Weirdbook published some of the great S&S back in the 1970s, including several of Charles Saunder's Imaro stories. Nope, not this issue. Mostly horror, some weird fantasy, and I enjoyed most of them. The majority of the S&S is poetry.
Still, I like horror, so I'll mention the ones that caught my attention most. Taye Carrol's "Childhood's Dread" kicks things off with a story describing a town where Christmas is a time of strange rituals and terrible fear. In "The Other Neighbors," by Daniel Davis, a man learns the worst possible thing that could happen to him when he goes off looking for his dog. In "Rare Air," Mark Slade sets a predator swimming amongst the idle, middle-aged rich.
S&S raises its head for a super-short story of a father protecting his progeny in J.E. Álamo's "The Children." Barely more than a tiny scene, it still moves with speed and packs a nice, sharp kick.
"The Whisperer in the Woods," by Peter Schranz, does have swords and armor in it, but it's not S&S. When Emperor Lothair I dies, his legitimate sons divide up his realm, leaving an oaken chest of beads to his illegitimate son, Carolman. A powerless figure, he is forced to become a pawn for his father's wife. While never overly fantastic, there is a pall of weird mystery that hangs about the relic Carolman is tasked with bringing to his brother, Louis, in Milan. This is my favorite story in the issue.
Seeing Adrian Cole's name beside it in the table of contents, I was hoping "In Blackwalk Woods" would be S&S. It wasn't, instead being a stellar example of how to use a worn out myth (the Wild Hunt) without it stinking. A man is offered the opportunity to save his dying wife. The offer, though, seems ludicrous. Having read only his outlandish (and excellent) Voidal stories, I was surprised by this moving tale and its theme of hope and devotion.
There's lots (and lots) more in Weirdbook #32. There are thirty-four stories and poems, and if you have an interest in horror and dark fantasy, at a mere $3.99 for 200 pages, you will not go wrong.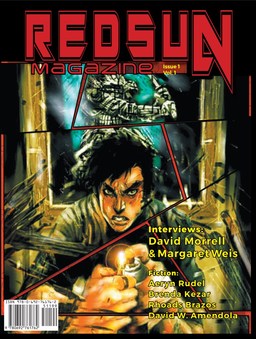 Finally, we come to newcomer Red Sun Magazine. Decent stories, lots of nice pulpy illustrations, but not heroic fantasy.
I really like the first story, "The Orion Incident," by David W. Amendola. It's a paranoid excursion into the hull of a ghost starship. Believed lost several years ago, when it makes a sudden reappearance and looks to be on a collision course with Earth, its lone survivor is sent with an exploration team to see what's going on. Suffice it to say, things goes less well than hoped for.
The other story that grabbed me was Brenda Kezar's "Star Jelly." We already know from the movies that one blob from outer space is bad. This story explores, in gory detail, what would happen if a whole bunch of blobs fell at once.
There are more fine stories, one by Rhoads Brazos and another by Aeryn Rudel, as well as a nice batch of non-fiction articles. Among the latter are interviews with Rambo-creator David Morrell and Dragonlance co-creator Margaret Weis. While it didn't satisfy my yen for S&S, editor-in-chief Ben Richards has put together a attractive magazine with some nice writing. The masthead also says Red Sun "publishes science-fiction, horror, and fantasy," so I'll be keeping my eye on it to see where future issues go.
With that, the curtain's come down on the summer short story roundup. I hope some of you take the time to follow up on some of the many stories I told you about this week and last. And then give even some of the ones you're not sure of a spin. That's one of the greatest things about short stories: they're short. If you don't like one, it's only a few minute out of your life. And who knows, you just might discover something new and great.
---
Fletcher Vredenburgh reviews here at Black Gate most Tuesday mornings and at his own site, Swords & Sorcery: A Blog when his muse hits him. You can read the last short story roundup here.