New Treasures: Ann and Jeff Vandermeer's The Big Book of Science Fiction
New Treasures: Ann and Jeff Vandermeer's The Big Book of Science Fiction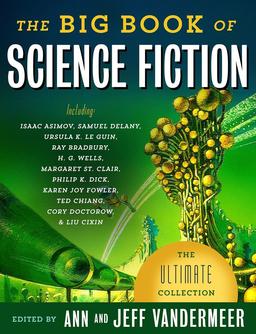 How big is The Big Book of Science Fiction? An informal survey shows that it's quite likely the biggest book every covered at Black Gate — bigger than Otto Penzler's The Vampire Archives and The Big Book of Adventure Stories, and even bigger than Ann and Jeff Vandermeer's previous record-holder, the 1152-page The Weird. It is 1,216 pages in two columns, weighing in at a staggering 750,000 words.
But as I keep telling Alice, size isn't everything. The Big Book of Science Fiction has been receiving accolades since the day it was published, Here's a snippet from one of my favorite reviews, from Brit Mandelo at Tor.com.
A stunning and satisfying retrospective… This is a complex and fantastic project — one I think they've succeeded admirably at to make an academically useful and pleasurably readable collection… Each piece in the collection is preceded by a brief write-up of the author, their life's work, and their story in the context of the world and genre alike. While each introduction is short, the inclusion of them enhances the stories immensely…

There are classics here — for example, Leslie F. Stone's "The Conquest of Gola" — that I've seen in most of these types of collections, but there are also new classics, stories that seem strikingly necessary to a rich understanding of the field but have not been previously collected or acknowledged as part of the canon. To balance those two urges is a high end goal, and to my eye, the VanderMeer duo have succeeded… I couldn't ask for more, truly. It's diverse, wide-ranging, engaging, and fun; the stories are introduced well, juxtaposed better, and the overall effect is one of dizzying complexity and depth.
The Big Book of Science Fiction was published by Vintage on July 12, 2016. It is 1,216 pages, priced at $25 in trade paperback and $12.99 for the digital edition. See the complete table of contents here.