New Treasures: The Weird, edited by Ann and Jeff VanderMeer
New Treasures: The Weird, edited by Ann and Jeff VanderMeer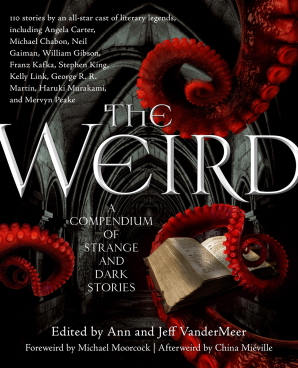 The Weird arrived on my doorstep today, with a resounding thump. And for once, I'm not speaking metaphorically.
It's about time. I've been waiting for this baby since it was first released in the UK back in October. From everything I'd read The Weird looked like the single most important fantasy anthology of the last few years. And now that I hold it in my hot little hands, I'm convinced that impression was correct.
The Weird is a massive 1,126-page survey of the last century of dark fantasy and weird fiction, starting with an excerpt from Alfred Kubin's 1908 novel The Other Side and ending with K.J. Bishop's "Saving the Gleeful Horse," from the March 2010 issue of Fantasy magazine. And I do mean massive — it's oversize in every way, including an inch wider than normal hardcovers, accommodating a two-column layout that packs a lot on each page.
In between those two pieces editors Ann and Jeff VanderMeer have collected 108 others, from authors including George R.R. Martin (his classic "Sandkings"), Michael Chabon ("The God of Dark Laughter"), H.P. Lovecraft ("The Dunwich Horror"), Stephen King ("The Man in the Black Suit"), Clark Ashton Smith ("Genius Loci"), Fritz Leiber ("Smoke Ghost"), Thomas Ligotti ("The Town Manager"), Kelly Link ("The Specialist's Hat"), and many others.
The oddest omission appears to be Robert E. Howard, one of the major 20th Century practitioners of the weird tale. Since virtually all of his weird fiction has been recently collected in other venues, his absence here doesn't bother me. I also miss Clifford D. Simak, C.L. Moore, Leigh Brackett, Edmond Hamilton, Henry Kuttner, Karl Edward Wagner, Manly Wade Wellman, William Hope Hodgson, Roger Zelazny, Ursula K. Le Guin, Theodore Sturgeon, Darrell Schweitzer, Gene Wolfe, Geoff Ryman, Jack Vance, Peter Beagle, and Frank Belknap Long, but I'm not going to pout about it. Editing an anthology like this is all about making tough choices, and I'm glad the editors opted for a lot of overlooked fantasy rather than work that's been continuously reprinted. Besides, this leaves lots of room for a second volume.
In fact, one of the strongest elements of The Weird is the attention paid to newer authors, including Laird Baron ("The Forest"), Margo Lanagan ("Singing My Sister Down"), Daniel Abraham ("Flat Diane"), Liz Williams ("The Hide"), and Michael Cisco ("The Genius of Assassins").
The Weird is $39.99 for an oversize hardcover — an incredible bargain, if you ask me — and just $29.99 in paperback.  It is published by Tor .