New Treasures: Children of Earth and Sky by Guy Gavriel Kay
New Treasures: Children of Earth and Sky by Guy Gavriel Kay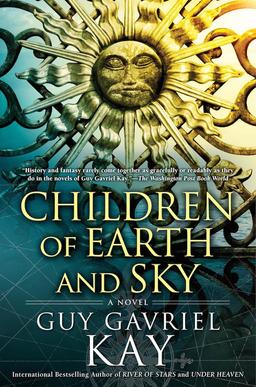 I remember when Guy Gavriel Kay's three volume Fionavar Tapestry appeared in my native Canada in the mid-80s. It was an instant hit, and put Kay on the map as a major fantasist immediately (to understand why, see Fletcher Vredenburgh's retrospective of the first two volumes, The Summer Tree and The Wandering Fire). He followed with Tigana (1990), A Song for Arbonne (1992), The Lions of al-Rassan (1995), and The Sarantine Mosaic (Sailing to Sarantium and Lord of Emperors). Kay isn't particularly prolific, producing a new fantasy volume every three years or so. In his review of Kay's 2010 novel Under Heaven, fellow Canadian Todd Ruthman wrote:
We don't have that many rituals in our home. One is the creeping countdown to Guy Gavriel Kay's newest novel. I am always a little sad when it finally comes, though, because it means years before I will see his next one.
There hasn't been a new Kay novel since River of Stars (2013). It's been three years, and along comes his newest, like clockwork. Children of Earth and Sky, a standalone fantasy set in a world inspired by Renaissance Europe, was released in hardcover on May 10, and called "Magnificent" by Library Journal.
From the small coastal town of Senjan, notorious for its pirates, a young woman sets out to find vengeance for her lost family. That same spring, from the wealthy city-state of Seressa, famous for its canals and lagoon, come two very different people: a young artist traveling to the dangerous east to paint the grand khalif at his request — and possibly to do more — and a fiercely intelligent, angry woman, posing as a doctor's wife, but sent by Seressa as a spy.

The trading ship that carries them is commanded by the accomplished younger son of a merchant family, ambivalent about the life he's been born to live. And farther east a boy trains to become a soldier in the elite infantry of the khalif — to win glory in the war everyone knows is coming. As these lives entwine, their fates — and those of many others — will hang in the balance, when the khalif sends out his massive army to take the great fortress that is the gateway to the western world…
Children of Earth and Sky was published May 10 by NAL. It is 592 pages, priced at $27 in hardcover, and $13.99 for the digital edition.