New Treasures: Exile by Martin Owton
New Treasures: Exile by Martin Owton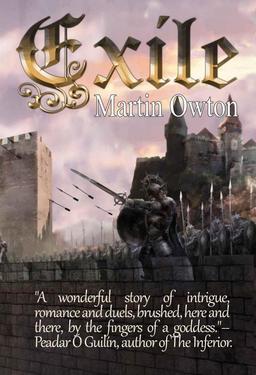 Martin Owton's stories for Black Gate include the funny and suspenseful contemporary fantasy "A Touch of Crystal" (co-written with Gaie Sebold), in BG 9, and "The Mist Beyond the Circle," in which a band of desperate men pursue the slave traders who stole their families, across cold barrows where a dread thing sleeps (BG 14).
So I was very inrigued to see his debut novel Exile arrive last month. Exile is described as a fast-moving tightly-plotted fantasy adventure story with a strong thread of romance, and it's the first volume of The Nandor Tales. Here's the full description.
Aron of Darien, raised in exile after his homeland is conquered by a treacherous warlord, makes his way in the world on the strength of his wits and skill with a sword. Both are sorely tested when he is impressed into the service of the Earl of Nandor to rescue his heir from captivity in the fortress of Sarazan. The rescue goes awry. Aron and his companions are betrayed and must flee for their lives. Pursued by steel and magic, they find new friends and old enemies on the road that leads, after many turns, to the city of the High King. There Aron must face his father's murderer before risking everything in a fight to the death with the deadliest swordsman in the kingdom.
The cover boasts a terrific quote from no less an illustrious personage than BG author and occasional blogger Peadar Ó Guilín, author of The Inferior and the upcoming The Call:
A wonderful story of intrigue, romance and duels, brushed, here and there, by the fingers of a goddess.
Exile was published by Phantasia/Tickety Boo Press on April 15, 2016. It is 303 pages, priced at just $2.99 for the digital version. Black Gate says check it out.