April 2016 Locus Now on Sale
April 2016 Locus Now on Sale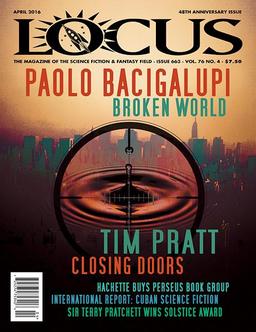 I let my subscription to Locus lapse last year as a cost-savings measure (I subscribe to too many magazines), and that proved to be a big mistake. I told myself I could still buy the occasional issue when they caught my eye on newsstands. Turns out Locus is pretty eye-catching. I've spent far more than what a subscription would have cost me buying up individual issues. This year, I won't make that mistake. I'm signing up for a subscription this month.
The April Locus is packed with great stuff, including interviews with Paolo Bacigalupi and Tim Pratt, a column by Kameron Hurley, a report on SF in Cuba, and reviews of short fiction and books by Eleanor Arnason, Ken Liu, Betsy James, Judith Merril, Austin Grossman, Cathy Fenner, and many others. In addition to all the news, features, and regular columns, there's also the indispensable listings of Magazines Received, Books Received, British Books Received, and Bestsellers. Plus Letters, and an editorial. See the complete contents here.
The big change I noticed with the latest issue is that the magazine has gone to glossy, full-cover interiors — and it looks great. All those books thumbnails look terrific in color.
We last covered Locus with the February 2015 issue. Locus is edited by Liza Groen Trombi, and published monthly by Locus Publications. The issue is 62 pages, priced at $7.50. Subscriptions are $63 for 12 issues in the US. Subscribe online here. The magazine's website, run as a separate publication by Mark R. Kelly, is a superb online resource. It is here.
See our Mid-April Fantasy Magazine Rack here, and all of our recent Magazine coverage here.