Goth Chick News: Again With That Damn Clown…
Goth Chick News: Again With That Damn Clown…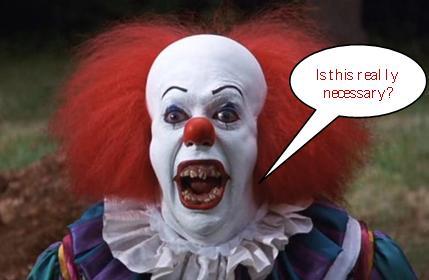 In the spring of 2015, production was ready to begin on a brand new rebooted, two-film adaptation of Stephen King's 1986 novel IT, with Cary Fukunaga (True Detective) in the director's chair. Creative differences led Fukunaga to depart the project, creating an indefinite delay and uncertainty as to whether the two-film approach would remain.
However, last week it was announced that Andy Muschietti (Mama) has taken over the directorial reins, and we've now learned that the cameras will begin rolling in June; on both films.
Stephen King himself took to Facebook to share a link from Entertainment Weekly confirming a September 8, 2017 release date, and explaining why the approach isn't really milking the potential audience.
Fans of King's novel should be pleased with the current take on the script, even if the view is slightly changed. "It is very close to the source material in one way but very different if you look at it as a literary piece of work," producer Roy Lee said in February. "We're taking it and making the movie from the point of view of the kids, and then making another movie from the point of view of the adults, that could potentially then be cut together like the novel. But it's gonna be a really fun way of making this movie."
So basically, the first film will center on the kids being tormented by Pennywise the Clown, while the second will jump ahead in time as those characters band together to fight the "It" evil as adults.
"King described '50s terror iconography. And I feel there's a whole world now to rediscover, to update," Muschietti recently said of his vision. "There won't be mummies, werewolves. Terrors are going to be a lot more surprising."
Apparently we really all do taste better when we're afraid…
Have a comment?  Post it here or drop a line to sue@blackgate.com