February 2016 Locus Now on Sale
February 2016 Locus Now on Sale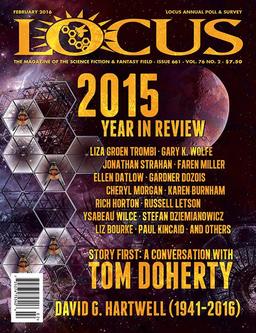 While I was at my local Barnes & Noble on Saturday, picking up the new issues of F&SF, Analog, and Asimov's, I was delighted to see the February issue of Locus peeking out from behind Mystery Scene. I don't always have the best luck finding Locus on newsstands, and I really didn't want to miss the February issue.
The February Locus is always a special event… it's their annual Year in Review issue, and this one does not disappoint. It has detailed looks back at the best new books and short fiction from the last twelve months by virtually all of their reviewers, including Gardner Dozois, Rich Horton, Jonathan Strahan, Russell Letson, Faren Miller, Gary K. Wolfe, Cheryl Morgan, Ellen Datlow, Paul Kincaid, and many others. It also includes the 2015 Locus Survey ballot, their annual Magazine Survey, a long interview with Tom Doherty, and — as always — plenty of reviews of short fiction and books. There's also an obituary of David G. Hartwell, and a promise of additional appreciations next month.
In addition to all the news, features, and regular columns, there's also the indispensable listings of Magazines Received, Books Received, British Books Received, and Bestsellers. Plus Letters, and an editorial. See the complete contents here.
We last covered Locus with the December 2015 issue. Locus is edited by Liza Groen Trombi, and published monthly by Locus Publications. The issue is 62 pages, priced at $7.50. Subscriptions are $63 for 12 issues in the US. Subscribe online here. The magazine's website, run as a separate publication by Mark R. Kelly, is a superb online resource. It is here.
See our March Fantasy Magazine Rack here, and all of our recent Magazine coverage here.