Beneath Ceaseless Skies 197 Now Available
Beneath Ceaseless Skies 197 Now Available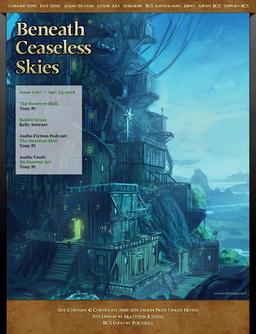 Issue #197 of Beneath Ceaseless Skies features a sword & sorcery tale by Tony Pi and a fanciful animal fantasy by Kelly Stewart, two podcasts by Tony Pi, and a reprint by Tina Connolly. Nicky Magas at Tangent Online liked the Stewart, and had mixed feelings on the Pi:
Ao has a fairly unique ability in Tony Pi's "The Sweetest Skill." Although he appears to be naught but a candy maker, Ao's family has a long symbiotic history with the zodiac spirit animals that grant him the ability to form magical constructs out of simple materials. But absolute loyalty to the spirits is required for such power, and the penalty for disobedience can be awful, as Ao well knows. So when the spirit of King Tiger shows up one night with a request to rescue a divine tigress in need, Ao is more than a little wary. On the other hand, he owes a debt of gratitude to the injured spirit and all debts must be paid, even if that means going up against the sorcery of the Ten Crows gang… "The Sweetest Skill" is a neatly packaged sword and sorcery story set in a broader narrative world. The characters, the setting, and the plot are all decently constructed, but lack a stylistic charm to be truly eye-popping…

Aril knows that you ought never invite Rabbits into the garden, in Kelly Stewart's "Rabbit Grass." There's no getting rid of them or fixing the damage they do if you're silly enough not to heed that bit of advice. All the same, there's something about the little Rabbit Picket that Aril can't ignore. And conversation never hurt anyone, did it?… But Picket won't stop going on about the non-existent Rabbit Grass, and when he shows up at her window one night looking desperate and worried, Aril won't rest until she's aided her unlikely companion, even if it means venturing into the Rabbit warrens herself. Part Peter Rabbit and part Alice in Wonderland, "Rabbit Grass" is… a lovely pastoral fantasy.
Here's the complete Table of Contents.
"The Sweetest Skill" by Tony Pi
I needed to stall the Ten Crows Sect's men. I asked the Golden Water River for leave to shape a water-hound from its substance, and in return I'd offer my candy dog figurine as tribute. It was pleased, and it pulled the caramel into deeper currents while granting me dominion over a vat's worth of sugar-tinged riverwater.

"Rabbit Grass" by Kelly Stewart
I haul my basket over to the stand of flowers that look like ladies' lacy handkerchiefs. While I'm digging in the soil with my trowel, sure enough, Picket hops over in the funny way Rabbits do and stares at me through the fence. His ears have perked up again, and I can see him smiling out of the corner of my eye. Insults and scoldings never keep them down for long.

Audio Fiction Podcasts

"The Sweetest Skill" by Toni Pi
My soul animated the river's gift. I sculpted my liquid body as I would a glob of hot caramel, paying homage to my old beloved dog.

Audio Vault

"No Sweeter Art" by Tony Pi
Introduced by audiobook and podcast narrator John Meagher.

From the Archives

"One Ear Back" by Tina Connolly (from Beneath Ceaseless Skies #97, June 14, 2012)
I was looking into his ankle, then there was a frightening jerk on my tail and I was peering into his long wide face.
Read issue 197 online completely free here.
Beneath Ceaseless Skies is edited by Scott H. Andrews and published twice a month by Firkin Press. Issues are available completely free online; you can also get a free e-mail or RSS subscription.
Firkin Press also sells a Kindle/e-Reader subscription, which includes automatic delivery to your Kindle or other device. A 12-month subscription comes with 26 issues and costs only $13.99. Single issues are available on Kindle and at Weightless Books for 99 cents. Subscribe here.
The magazine supports itself though subscriptions, and also by selling anthologies, including the annual Best of BCS volumes and occasional themed books such as the steampunk anthology Ceaseless West. The anthologies each contain 15-18 stories and cost only $2.99-$3.99.
This month's cover, "Forest," is by Geoffrey Icard. We last covered Beneath Ceaseless Skies with issue #196.
See our Mid-April Fantasy Magazine Rack here, and all of our recent Magazine coverage here.