Clarkesworld 115 Now Available
Clarkesworld 115 Now Available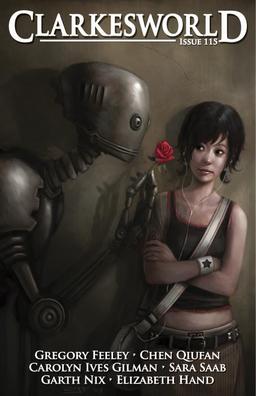 Tangent Online is, as usual, more on top of things than I am. Their review of the latest issue of Clarkesworld magazine was posted yesterday, before I'd even had a chance to look at this month's cover. Reviewer Jason McGregor does a fine job of writing intriguing summaries for each story (a subtle art, and I know that from experience.) Here's his summary of "Touring with the Alien" by Carolyn Ives Gilman.
Avery is a woman with something in her past which leads her to a strange and rootless life, so she is able to go on a journey at a moment's notice when an employer calls her with a strange job. Alien artifacts have appeared all over North America (why just North America?) and humans who may be abductees eventually appear from them. Avery is to drive one of these, and an alien, to St. Louis. Along the way, she reflects on her life (ultimately revealing the great tragedy of her life, which the reader suspected in a general way), her strange companions, the nature of consciousness, and makes a decision with enormous consequences.
Read his complete review here.
Clarkesworld #115 has four new stories by Carolyn Ives Gilman, Chen Qiufan, Gregory Feeley, and Sara Saab, and two reprints by Garth Nix and Elizabeth Hand.
Short stories featured this issue are:
"Touring with the Alien" by Carolyn Ives Gilman
"Balin" by Chen Qiufan; translated by Ken Liu
"The Bridge of Dreams" by Gregory Feeley
"The Cedar Grid" by Sara Saab
"Old Friends" by Garth Nix (from Dreaming Again, 2008)
"Winter's Wife" by Elizabeth Hand (from Wizards: Magical Tales From the Masters of Modern Fantasy, 2007)
The non-fiction is:
Silver Machine: Hawkwind's Space Rock Journey throughout Science Fiction and Fantasy by Jason Heller
Transparency and Transformation: A Conversation with David Brin by Chris Urie
Another Word: Technology Creates a New Golden Age of Speculative Fiction by Margot Atwell
Editor's Desk: Best. Wife. Ever. by Neil Clarke
Clarkesworld typically posts several Podcasts during the month. This month there are six:
Touring with the Alien by CAROLYN IVES GILMAN read by Kate Baker
Balin by CHEN QIUFAN read by Kate Baker
The Bridge of Dreams by GREGORY FEELEY read by Kate Baker
The Cedar Grid by SARA SAAB read by Kate Baker
Old Friends by GARTH NIX read by Kate Baker
Winter's Wife by ELIZABETH HAND read by KATE BAKER
We last covered Clarkesworld with Issue 114.
Clarkesworld is edited by Neil Clarke and Sean Wallace, and published by Wyrm Publishing. The contents are available for free online; individual issues can be purchased for $3.99, and monthly subscriptions are $2.99/month. A 6-month sub is $17.94, and the annual price is $35.88. Learn more and order individual issues at the magazine's website.
This issue's cover, "Robot in Love," is by Rudy Faber.
See the complete issue here.
Our April Magazine Rack is here. See all of our recent fantasy magazine coverage here.