Knights of the Dinner Table 227 Now on Sale
Knights of the Dinner Table 227 Now on Sale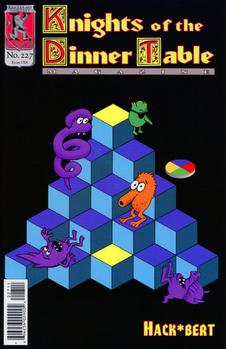 Knights of the Dinner Table follows the misadventures of a group of misfit gamers from Muncie, Indiana. It is written and drawn by my friend Jolly R. Blackburn, with editorial assistance by his talented wife Barbara. Black Gate readers may remember the KoDT spin-off The Java Joint, which appeared in the back of every issue of BG (and was eventually collected in a single volume in 2012).
KoDT started off in the back of the gaming magazine Shadis, and in short order it became one of the most popular comics in the industry, appearing as a regular feature in Dragon, Kevin Siembieda's Rifter magazine, and other places. Since 1996 it has appeared as a standalone magazine; it has been published by Kenzer & Company since the fourth issue.
KoDT magazine is published monthly. The core of the publication is the comic strip, but the issues are huge — 64 pages — and rounded out with news, reviews, features, and a variety of entertaining gaming columns. It is, hands down, the best way to stay informed on the adventure gaming hobby each month.
The cover of KoDT 227 is a special treat for old-school video game players. Here's Jolly:
We're very excited about this month's cover — not only is it a parody of the classic 80's arcade game, Q*bert but it was drawn by Jeff Lee — one of the original co-designers of the game and the man who did the original Q*bert game graphics
Here's the complete Table of Contents.
The Strips
"The Long Road Home"
"Security Breach"
"Dawgs in the Yard"
"The Fridge Side Chat"
"Opportunity Knocks"
"The Rent Money"
"One-Two Punches"
Special Features
Monkey Warfare in RPGs — GM Tricks to keep Players Guessing, by Blaine Lee Pardoe
KODT Interrogations — KODT Interviews Alex Kammer of Gamehole Con, by Barbara Blackburn
Regular Columns
Web Scryer: Restock Your Podcast Queue by Ken Newquist
Ask Gary: New column where the Gawdfather of Hack answers rules questions
GameMaster's Workshop
Rustlers of the Night: Orgron by Steve Johansson & John McConnell
All Things Magic: Unseen Burn by Scott R. Krol
Denizens of Tellene: Itchy Brodaran, Crend Volven by Barb Blackburn
Deadly Trappings: Alarm Chest by J.L. Duncan
Bait & Tackle
Reviews
Lost Game Safari: Gammarauders review by Scott Thorne
Indy Game Scene: Breachworld (by Jason Richards) review by JL Duncan
Off the Shelf: Empire of Imagination (Michael Witwer) review by Joe Kelly
Brian's Picks: Badass Zombie Killer, Rivendell, Colt Express
Departments
Cries from the Attic: Editorial of a Madman: Dispel Confusion by Jolly Blackburn
Table Talk: Our Readers Talk Back
Weird Pete's Bulletin Board
Back Room at the Games Pit
Parting Shots
Other Toons
SnarfQuest by Larry Elmore
Additional cartoons by Robert James, Indy Bill, Scott Kroll, Carolyn Stogdill, Benjamin Pierce
We last covered Knights of the Dinner Table Magazine with issue #224.
Knights of the Dinner Table Magazine #227 was published by Kenzer & Co on January 13, 2016. It is 64 pages, priced at $5.99. Learn more at the KenzerCo website.
Our March Fantasy Magazine Rack is here. See all of our recent fantasy magazine coverage here.