Knights of the Dinner Table 224 Now on Sale
Knights of the Dinner Table 224 Now on Sale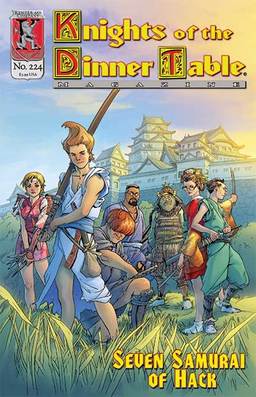 Knights of the Dinner Table follows the misadventures of a group of misfit gamers from Muncie, Indiana. It is written and drawn by my friend Jolly R. Blackburn, with editorial assistance by his talented wife Barbara. Black Gate readers may remember the KoDT spin-off The Java Joint, which appeared in the back of every issue of BG (and was eventually collected in a single volume in 2012).
KoDT magazine is published monthly. The core of the publication is the comic strip, but the issues are huge — 64 pages — and rounded out with news, reviews, features, and a variety of entertaining gaming columns. It is, hands down, the best way to stay informed on the adventure gaming hobby each month.
I bought the first issue back in 1994, and contributed a book review column for several years in the late 90s. It amazes me to see that, with 224 issues under his belt, Jolly is now closing in on Dave Sim's legendary 300-issue run with Cerebus. That's a monumental accomplishment.
KoDT 224 contains no less than nine full-length strips, plus some short "One-Two Punches." The cover is by Steven Cummings, a smart parody of Seven Samurai.
Here's the complete Table of Contents.
The Strips
"Exercise in Futility"
"Ups and Downs"
"Free and Untethered"
"Fishing Expedition"
"Crash and Burn"
"A Crazy Plan"
"Pig in a Poke"
"Packing it In"
"Bob Voyage"
"One-Two Punches"
"One-Two Punches"
Special Features
Bandit Tower — A solo adventure in the spirit of Hackmaster, by Mark Dowson
Rustlers of the Night — An alcohol steeped slushy 'ooze' that packs a punch, by Steve Johansson & John McConnell
Regular Columns
Web Scryer: Revisiting the Apocalypse by Ken Newquist
Tales from the Table
GameMaster's Workshop
Deadly Trappings: Dummy Chests for Dummies by Barb Blackburn
All Things Magic: Potion of the Ocean by J.L. Duncan
Denizens of Tellene: Raz, Sil by Barb Blackburn
Bait & Tackle
Reviews
Lost Game Safari: Paydirt by Alan Hume
The "Indy" Game Scene: Labyrinth Lord by J.L. Duncan
Off the Shelf: Around the World in Eighty Days (Jules Verne) by Noah Chinn
Brian's Picks: 13th Age, Psychological Warfare, Dice Town Expansion
Departments
Cries from the Attic: Editorial of a Madman: Chasin' the Catch-Up Caboose by Jolly Blackburn
Table Talk: Our Readers Talk Back
Weird Pete's Bulletin Board
Back Room at the Games Pit
Parting Shots
Other Toons
SnarfQuest by Larry Elmore
Additional cartoons by Scott Kroll, Bill "Indy" Cavalier, Noah Chinn and anonymous
We last covered Knights of the Dinner Table Magazine with issue #220.
Knights of the Dinner Table Magazine #224 was published by Kenzer & Co on September 23, 2015. It is 64 pages, priced at $5.99. Learn more at the KenzerCo website.
Our mid-September Fantasy Magazine Rack is here. See all of our recent fantasy magazine coverage here.