Goblin Fruit Winter 2016 Now Available
Goblin Fruit Winter 2016 Now Available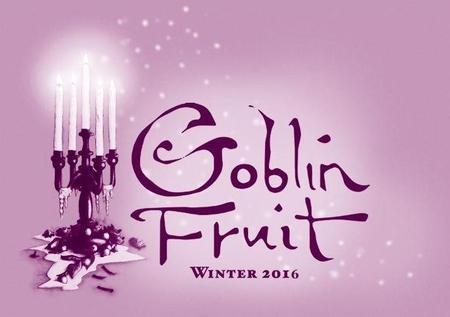 After a one-year hiatus, online magazine Goblin Fruit has returned. Hurrah! They address their missing year in this issue's Note from the Editors:
We sowed Winter, and we reaped it for a year.

We lay fallow. We withdrew. We shrank into the earth and tucked our roots about us. We shut our eyes, huddled into the brittle dark, and we sank.

While Winter rimed the waves, we sank. While Spring warmed the earth, we sank. While Summer ripened the grain, we sank. While Autumn fell about us in riotous colour, we sank, until the circle of our Winter closed, and we found ourselves in a Deep Place.

We are forbidden to speak of where we went. We are forbidden to speak of what was spoke. We are forbidden from sharing anything but our own words and the fruit of the labour we took with us, the triumph of our trade.
Goblin Fruit is a quarterly online magazine that publishes poetry of the fantastical, poetry "that treats mythic, surreal, fantasy and folkloric themes, or approaches other themes in a fantastical way." Each quarter has a theme and a feature artist. This issue, art by Grant Jeffery frames poems by Isabel Yap, Jane Yolen, Kelly Rose Pflug-Back, Sonya Taaffe, Toby MacNutt, and many others.
Here's the complete table of contents:
Village Woman by Sara Norja
The Ice Maiden by Shawna Lenore Kastin
Striking Fire by Isabel Yap
Black Bull of Norroway by Jane Yolen
Miscarriage by Kelly Rose Pflug-Back
For Saint Valentine, on the Occasion of His Martyrdom by Sonya Taaffe
Amber and Ash by Toby MacNutt
Call her auteur but call me sunset by Jessica Fordham Kidd
Lady of the Lake by Elise Anna Matthesen
Suzuka by Iori Kusano
Path of Needles by Amanda Lord
Norns' Feast (Charcuterie and Pairings) by Andrew Crabtree
Feature: Mike Allen: Hungry Constellations
See the complete contents here.
Goblin Fruit is edited by Amal El-Mohtar and Caitlyn Paxson. This is the 36th issue. Their complete back issue archive is here. Issues are available completely free. The magazine survives chiefly through donations; you can see a breakdown of their costs and donate here.
The cover this month is by Grant Jeffery.
We last covered Goblin Fruit with the Autumn 2011 issue.
See our February Fantasy Magazine Rack here, and all of our recent Magazine coverage here.